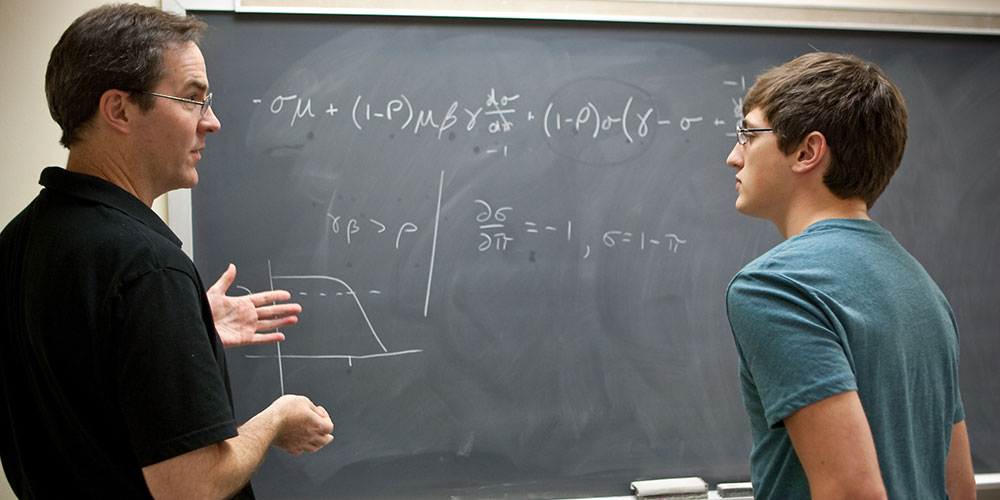 The Department of Economics and the Department of Mathematics offer a joint major leading to a bachelor of science degree in mathematical economics. This interdisciplinary program affords the student an opportunity to apply mathematical methods to the development of economic theory, models, and quantitative analysis.
---
Courses
Sample courses for students studying Mathematical Economics include:
Discrete Dynamical Systems
Game Theory
Market Design
Monetary Theory and Policy
Financial Markets
View official major requirements »
Practical Experience & Skills
In addition to being able to take economics further because of the possibilities allowed for by advanced mathematics techniques, the students in this major develop a heightened sense of accomplishment from intelligently applying such sophisticated and diverse techniques as multi-variable calculus, linear algebra, and statistics. Going beyond the scope of mathematics or economics individually, the math-econ program allows for a more comprehensive study and analysis of applied mathematics.
Students in this program will develop the following skills:
Persistence
Patience
Logical manner of thinking
Strong problem solving skills
Creativity
Comfort with abstract concepts
Analytical skills
Recognition of patterns and hidden similarities within groups of data

Get to know our Personal & Career Development Center
Clubs & Organizations
Mathematical Economics students participate in the following clubs and organizations:
Dow Jones Club
Sports Analytics Club
Alpha Kappaa Psi
Marketing and Advertising Club
Management Consulting Club
Finance Club
Career Outcomes
Careers that often interest Mathematical Economics majors include:
Accountant
Actuary
Archivist
Attorney
Bank Officer
Budget Analyst
Consultant
Controller
Credit Analyst
Educator
Foreign Service Officer
Financial Analyst
International Trade Specialist
Investment Banker
Lobbyist
Statistician
Technical Writer
Several recent graduates have gone on to careers as actuarial scientists, financial analysts and similar fields. Others have become statistical analysts for Major League Baseball teams, logistical coordinators for nonprofit organizations and military officers.
---
Ready to take the next step?
Related Programs
Those who are interested in Mathematical Economics also consider the following programs:
Viewbook
At Wake Forest, we have lots of good stories to share, so we hope you'll get to know us. Browse our Viewbook to learn more.