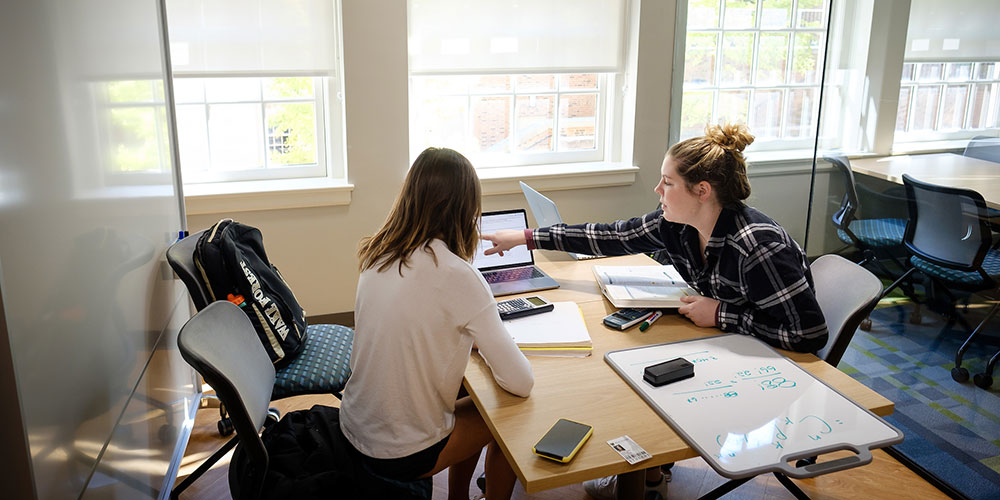 Applied Statistics is focused on statistical modeling, coding, analyzing, interpreting and drawing conclusions from data. This major builds critical thinking and problem solving skills in data analysis and empirical research.
---
Did You Know?
The Bureau of Labor Statistics projects that employment in math-related fields will grow 28% by the end of the decade.
Courses
Sample courses for students studying Applied Statistics include:
Probability
Discrete Mathematics
Regression and Data Science
Optimization Theory
View official major requirements »
Practical Experience & Skills
Students who complete this degree program will be well prepared to go on to data-focused positions in industry or government, as well as graduate programs in applied statistics, data science, social sciences, etc. The content knowledge in this degree is also useful for those intending to teach high school statistics.
Students in this program will develop the following skills:
Statistical modeling and inference
Coding
Communication
Data analysis

Get to know our Personal & Career Development Center
Clubs & Organizations
Applied Statistics students participate in the following clubs and organizations:
Association of Computing Machinery (Student chapter)
Sports Analytics Club
STEM Academy
Career Outcomes
Careers that often interest Applied Statistics majors include:
Biostatistician
Business Intelligence Analyst
Computer Scientist
Data Analyst
Data Engineer
Data Scientist
Financial Analyst
Marketing Research Analyst
Operations Research Analyst
Scientific Researcher
Sports Analyst
Statistician
Statistics Professor
---
Ready to take the next step?
Related Programs
Those who are interested in Applied Statistics also consider the following programs:
Viewbook
At Wake Forest, we have lots of good stories to share, so we hope you'll get to know us. Browse our Viewbook to learn more.