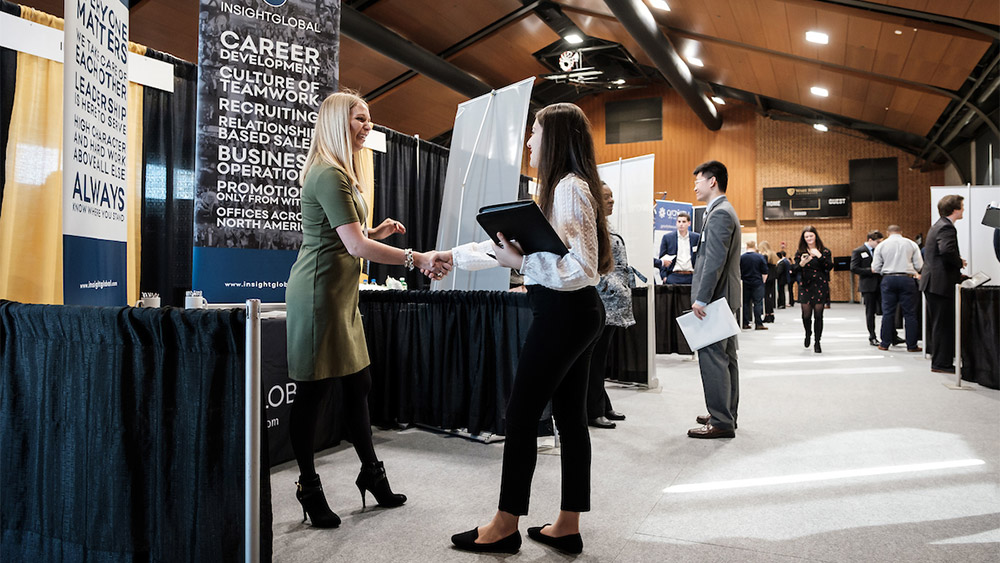 Preparing Wake Forest students for success after graduation.
For nine consecutive years, over 96% of students in each graduating class were employed or in graduate school within six months of graduation. 98.2% of the class of 2021 had successful outcomes, being employed or in graduate school at top employers and graduate schools around the world.
From their first days on campus, Wake Forest students are engaged with the award-winning Office of Personal and Career Development. Wake Forest is one of the only top universities in the country to offer five unique college-to-career courses for credit and are guided from exploration to assessments to personal branding to networking to finally securing internships and jobs. The OPCD-developed Ready7, a step-by-step process for students, which gives students a clear set of accomplishable actions and competencies to be prepared, confident and ready for career and life.
A Different Kind of Approach
Because of the OPCD's holistic approach to career education, innovative and engaging programming, personal career guidance, and responsive alumni and parent network, premier employers and graduate schools have high regard for Wake Forest students and our diversity and inclusion programming and resources. Employers represent a wide range of industry sectors and recruit Wake Forest students from all types of backgrounds and majors.
Every Wake Forest student – from every major – has access to and utilizes our nationally recognized, industry-leading team. Our doors, and digital screens, are open and available throughout a student's time at Wake Forest, and after graduating, they will continue to be supported through their careers after college by the nationally acclaimed Alumni Personal and Career Development Center.
2020 NCDA Exemplary Career Center Program Award
Recognizes a career center program for their commitment to thoughtful, innovative, and effective initiatives that support career development.
2019 NACE Diversity & Inclusion Award
Acknowledges excellence in best practices in nurturing and advancing diversity and inclusion.
2018 SoACE Mosaic Award – Wake Forest University & EY
Demonstrates a commitment to participation in diversity and inclusion initiatives, as well as positive communication and education that promote mutual respect, acceptance, cooperation or tolerance among people of different backgrounds.
2018 NACE Career Services Excellence Award – President Hatch
Acknowledges a university president who supports the establishment of, and demonstrates forward-thinking leadership in, career services education.
Top Employers
Wake Forest graduates go on to work for some of the top companies in the world. Over 96% of students are employed or are in grad school within six months of graduation. Here are a few places they go:
Corning
Dell
Deloitte
Disney
Federal Bureau of Investigation
IBM
Nike
Siemens
Visit the OPCD website to learn more about how we help students prepare for life after graduation.