Affording a Wake Forest Education
The numbers can be daunting, but they are not disqualifying. The committed professionals in Financial Aid are charged with making Wake Forest within your financial reach. With a combination of loans, grants, work-study and other sources, the mission is possible.
---
$87,556
Estimated cost of attendance for the 2023-24 academic year
which includes all of this
$64,758
Tuition & Fees
---
$11,214
Housing
---
$6,634
Food
---
$1,630
Books & Supplies
---
$3,320
Other Expenses*
How are these costs determined?
The figures shown here, based on a student living on or off campus for the 2023-24 academic year, are an estimate of average total costs and are used to determine eligibility for need-based financial aid.
For more information on costs, please visit the Undergraduate Cost of Attendance page on the student financial aid website.
Net Price Calculator
Use our Net Price Calculator to estimate your net cost (estimated costs, minus grants and scholarships).
* Other Expenses
Additional fees and expenses that may affect your overall cost of attendance include:
Personal expenses
Transportation
Fed Direct Loan Avg. Fee
New Student Orientation Fee
That's a lot of money—how can my family afford that?

Let's talk about financial aid.
Like almost half of all undergraduate students at Wake Forest receiving financial assistance in the form of loans, grants or both, you have options. We're here to help you explore them.
Types of Aid
Need-based grants and scholarships are based upon the income and asset data provided by the family in federal (FAFSA®) and institutional (Profile®) aid applications. Merit-based scholarships are offered on the basis of academic performance, artistic or athletic talent, or other contributions the student may demonstrate.
Determining Need
Most financial aid at Wake Forest is based on a family's demonstrated financial need. Except in the most extraordinary circumstances, Wake Forest considers undergraduate students to be dependent on their parents. Below, please learn more about determining need and how the Office of Financial Aid may assist you.
When do I apply for need-based aid?
Make sure to visit our Applying for Need-Based Aid page for additional details and instructions on how to apply for need-based aid.

October 1
---
Financial aid applications become available

November 15
---
Deadline for Early Decision I, Early Action applicants

January 1
---
Deadline for Early Decision II, Regular Decision applicants
Fall 2023 admissions dates and deadlines
Applying to college brings up a lot of questions. Wake Forest Admissions and Financial Aid are here to help you with some guidance. Make note of the deadlines below, and follow the accompanying checklist to make applying to Wake Forest a smooth process.
How will I repay my student loans?
Wake Forest grads are successful.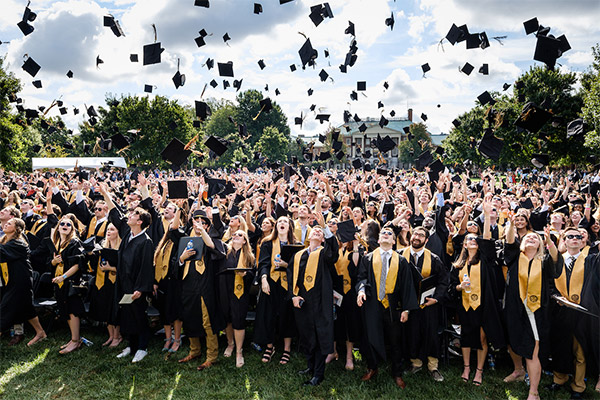 For nine consecutive years, over 97% of students in each graduating class were employed or in graduate school within six months of graduation. 98.2% of the Class of 2021 had successful outcomes, being employed or in graduate school at top employers and graduate schools around the world.
As a result, Wake grads are able to pay back their loans.
You have plenty to think about your senior year, and we know applying to college is going to be on your mind a lot. As you navigate your way through your final year of high school, here are a few things we encourage you to consider before applying to Wake Forest.