Get Your Game On.
Wake Forest proudly competes in the NCAA Division I Atlantic Coast Conference. As a founding member of the ACC, Wake Forest Demon Deacon teams have won nine national championships in five sports, including men's tennis and men's soccer.
Wake Forest teams are consistently among national leaders both athletically and academically. Academically, Wake Forest student-athletes graduate at a 96% rate according to the most recent NCAA-measured data, released in 2021.
---
The smallest school in the Atlantic Coast Conference—or any of the NCAA's top five conferences, for that matter—has the biggest heart. And lungs. Across the sporting spectrum, Demon Deacon teams are cheered on by the Screamin' Demons, the largest student organization on campus.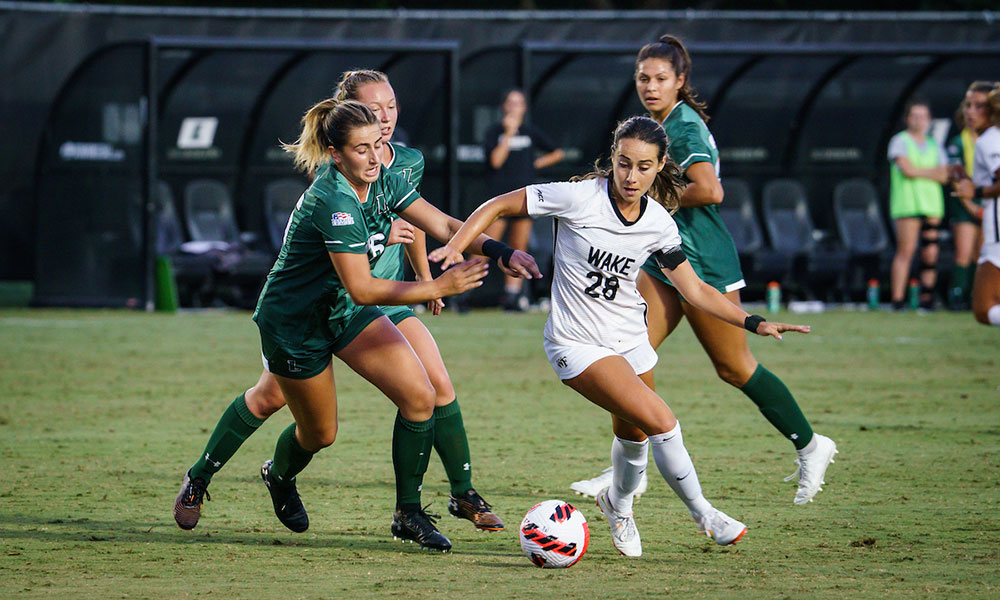 Our student-athletes play to win.
Wake Forest offers 16 Division I men's and women's teams. Visit our official athletics website for more information on all of our teams.
Men's Sports
Baseball
Basketball
Cross Country
Football
Golf
Soccer
Tennis
Track & Field
Women's Sports
Basketball
Cross Country
Field Hockey
Golf
Soccer
Tennis
Track & Field
Volleyball
Want to be part of the action but not as an athlete? Wake Forest University Athletic Bands consist of the Marching Band and Pep Bands and are collectively known as the Spirit of the Old Gold and Black.

NCAA Division I Championships
Wake Forest is one of only three schools with fewer than 5,500 undergraduates to have won NCAA Division I team championships in five sports: men's golf, field hockey, men's soccer, baseball, and men's tennis.
In total, our Demon Deacons have won 53 ACC championships in 11 sports.
Oh, and we have a highly decorated debate team too, winners of four – four! – ACC Debate Championships: 2015, 2016, 2017, and 2021.
State-of-the-art training facilities
The Sutton Sports Performance Center offers strength and conditioning facilities dedicated for most of our athletic teams. It connects to the 24,000-square-foot Shah Basketball Complex, which includes regulation courts for men's and women's basketball.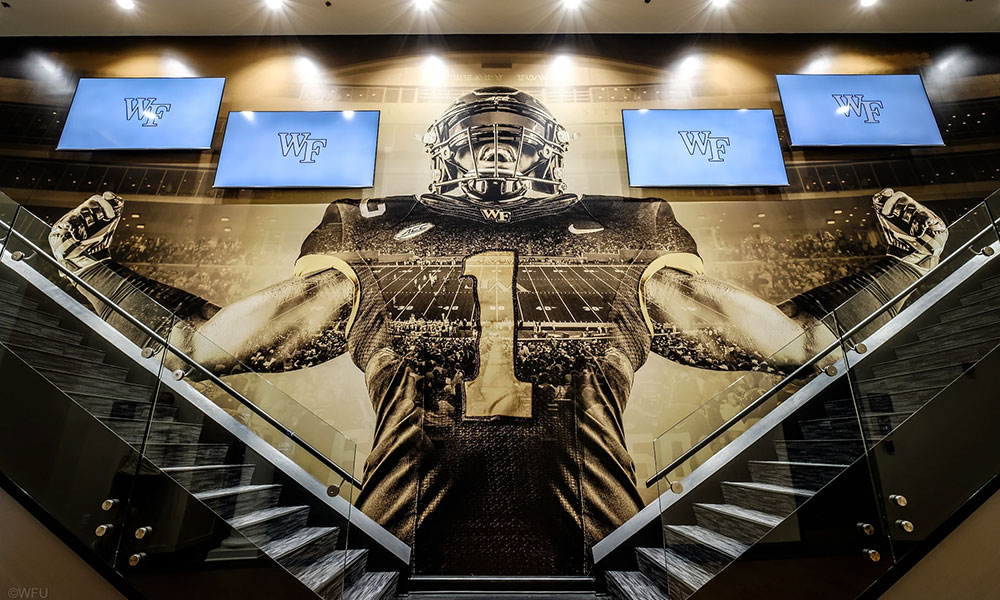 "The opening of Sutton Sports Performance Center and the Shah Basketball Complex is a generational moment symbolizing Wake Forest's commitment to achieving at the highest level of college athletics. This transformative facility is yet another enhancement to our world-class student-athlete experience."

Athletics Director John Currie
---
Where our student-athletes go to train
In addition to strength and conditioning facilities dedicated for football and men's and women's basketball, there is a strength and training area shared by men's and women's soccer, men's and women's tennis, track & field, men's and women's golf, field hockey and volleyball.
There's also the Christian McCreary Nutrition Center, which helps fuel proper diet around the clock, with foods marked for either pre-workout or recovery.
Our football and basketball teams practice and perform in the state-of-the-art Sutton Center, LJVM Coliseum, and Allegacy Stadium. The football, baseball, and men's and women's basketball teams play about a mile away on Deacon Boulevard.
Across Wake Forest Road is Kentner Stadium, home of our three-time NCAA field hockey champions and our track teams. Kentner is one of two major sports venues on this campus. The other is Spry Stadium, which an ncaa.com fan survey recently called one of the nation's best spots to watch college soccer.
All athletic tickets are free and guaranteed to all students.
Deacon athletic facilities
Meet our mascot, the Demon Deacon.
The Demon Deacon is a nod to the university's history. Though now an independent university, Wake Forest was founded by Baptists. Though the name Deacon was used in connection with Wake Forest teams in the 1920s, it wasn't until 1941 that some WFU students came up with the idea of designing a mascot based on a Baptist church deacon. The Deacon made his first appearance in top hat, tails, and umbrella.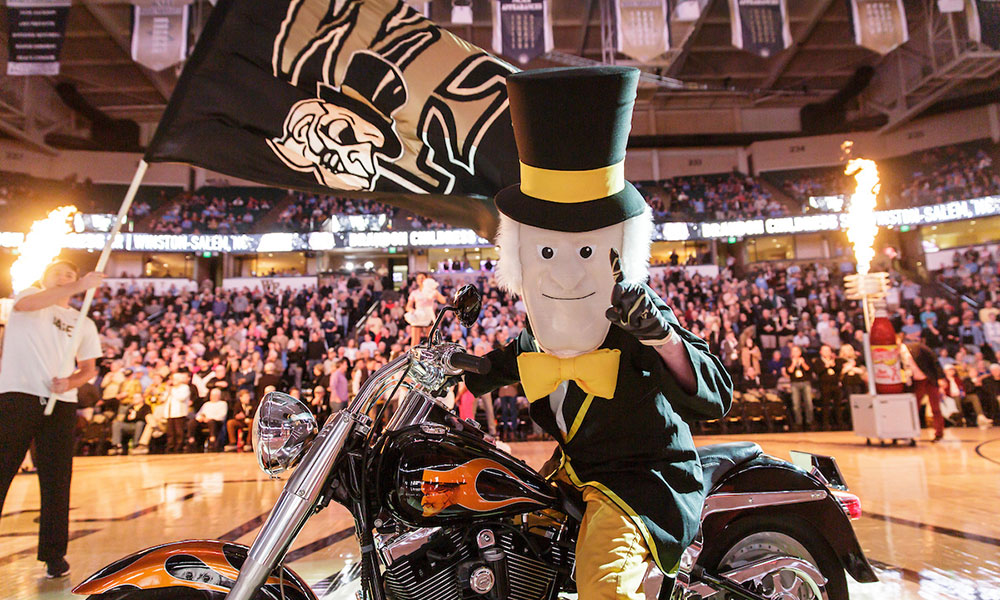 Then, anecdotally at least, the Deacon was christened with his fierce adjective during a football game when a school reporter announced, "Those Deacons are playing like demons."
The mascot has gone through some changes over the decades – but remains distinguished and distinctive.