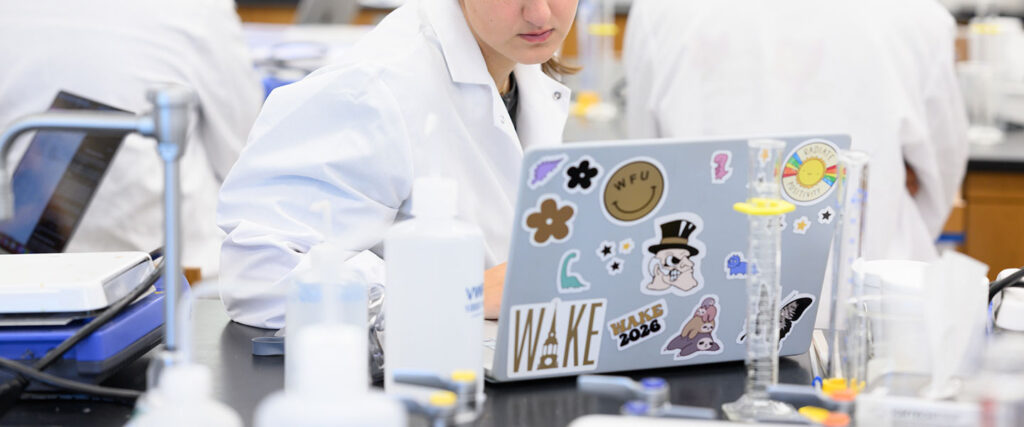 Learn More about This Remarkable Place.
Here at Wake Forest, you will find a place where you may be curious about the world. As you'll learn below, our students find enriching academic opportunities that offer them real-world experiences in research fields, literature, and public service.
To learn more about this remarkable place, filled with incredibly talented people who want to engage the world in impactful ways, we hope you will watch our student stories.
---
Anusha Vora
As Anusha Vora has experienced, our Wake Downtown facilities feature hands-on teaching labs, project-based studios, and advanced research labs – all this, and they're nestled in beautiful downtown Winston-Salem, home to wonderful restaurants and a plethora of community events.
Nick Dowling
Nick Dowling found a sense of community at Wake Forest through small-class discussions (as in his Gothic literature course), ROTC, and our welcoming Quad.
Patti Chen
Our Business School offers an unparalleled alumni network and incredible job placement numbers, but it's our faculty members and the real-world lessons they bring to the classroom that make the B-School a remarkable place to Patti Chen.
Sarah Marmolejos
Sarah Marmolejos discovered the best of both worlds at Wake Forest: pursuing a career in engineering while also getting the foundation of a liberal-arts education.
Grace Conway
A class that sparked Grace Conway's interest in genome editing led to work in a research lab with a Wake Forest professor.
Griffin Ravo
With the support of faculty, Griffin Ravo changed his major his senior year to pursue a developing interest in computer science. As a code-writer, he appreciated the help in rewriting his goals.
Ally Wilkinson
Ally Wilkinson enjoys her campus home away from home, while preparing for class discussions. Whether it's literature or STEM, she knows the small class size means the conversation will be conceptually provocative.
Brighid Biehl
In her History of Material Texts course, Brighid Biehl learned the history of books and printing, with labs throughout the semester. She made a book, used a printing press, set type, and even created her own woodcut print!
Allan Ebert
By taking courses in film studies and media production, Allan Ebert has prepared himself for a career that allows him to follow his passion.
Breanna Laws
In a relatively new minor in linguistics, Breanna Laws began an independent study dealing with grammatical gender and semantic categories. She discovered this passion in a divisional course, Linguistics 150, and is now a full-fledged Linguistics minor.
Christina Wood
Most of us need a job, and Wake Forest will help you achieve that – but also much more: We'll help you find a context in which you may do your best work. That's what Christina Wood learned while working with Wake Forest's Office of Personal and Career Development (OPCD).
Emily Hellwig
"Instead of interrupting, work on attracting." This is just one of many lessons Emily Hellwig learned while developing marketing campaigns for Krispy Kreme donuts and Cheerwine cola in her public-relations course.