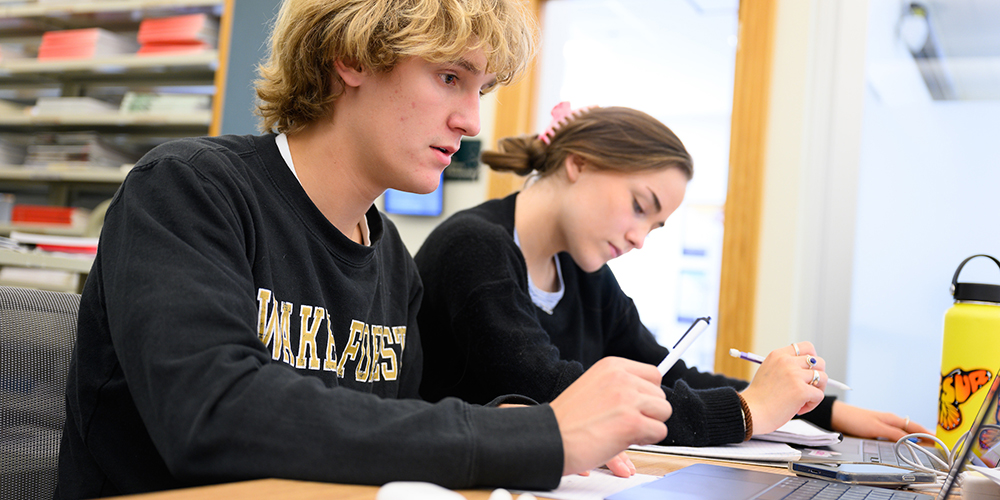 Just as a savvy advisor prepares clients for ups and downs in the market, the Finance major equips graduates to take on a perpetually evolving professional landscape. A balanced curriculum of financial economics, applied statistics and accounting leads to career opportunities across business sectors and across the globe.
---
Did You Know?
Finance has been the third most popular major at Wake Forest among graduates in recent years (2019-23).
Recent graduates have accepted first jobs in 11 foreign countries.
Courses
Sample courses for students studying Finance include:
Private Equity
Financial Modeling
Risk Management
International Finance
View official major requirements »
Practical Experience & Skills
Students gain the skills and knowledge to value cash flows and assets, analyze the financial performance of firms, determine strategies to enhance the value of the firm, analyze portfolios, value financial securities, and understand domestic and international capital markets.
Students in this program will develop the following skills:
Communication (oral and written)
Analytical skills
Data analysis
Technical skills
Financial modeling
Accuracy
Interpersonal skills
Decision-making
Critical thinking
Quantitative and qualitative skills

Get to know our Personal & Career Development Center
Clubs & Organizations
Finance students participate in the following clubs and organizations:
Finance Club
Campus Grounds
Case Competition Club
Dow Jones Club
Hydrating Humanitate
Career Outcomes
Careers that often interest Finance majors include:
Budget Analyst
CFO
Credit Analyst
Economist
Finance Director
Finance Manager
Payroll Clerk
Payroll Manager
Procurement Analyst
Purchasing Manager
Risk Analyst
Treasurer
Graduates are working in investment banking; as traders on Wall Street; as accountants; attorneys; and even an NFL quarterback.
---
Ready to take the next step?
Related Programs
Those who are interested in Finance also consider the following programs:
Viewbook
At Wake Forest, we have lots of good stories to share, so we hope you'll get to know us. Browse our Viewbook to learn more.