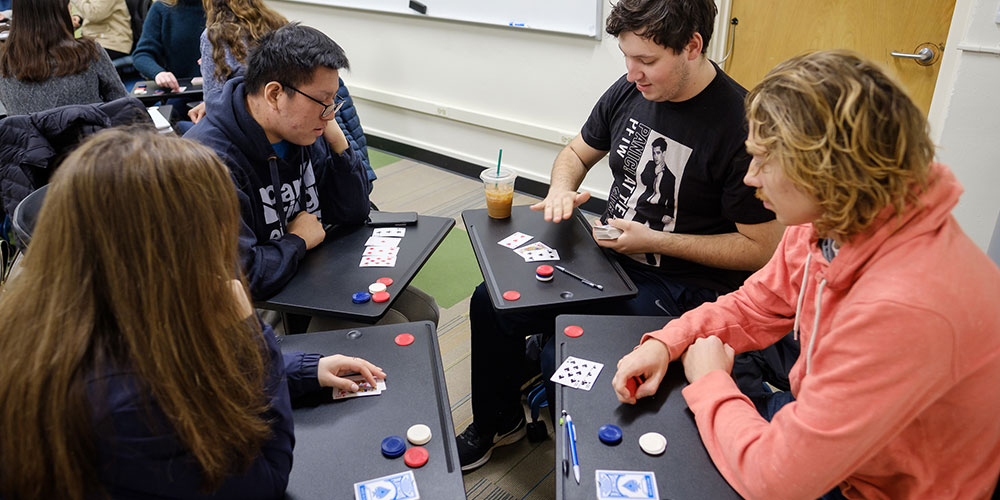 Reasoning, problem-solving and other skills that have never been more important are the hallmarks of the Mathematics major. It provides the common language for all sciences and is also an important discipline in its own right. It is an art as well as a science; creative mathematical research has even been compared to poetry.
---
Did You Know?
Math-based careers are expected to grow 28% through the rest of this decade. That is appreciably faster than the national average of other occupations, according to the Bureau of Labor Statistics.
In the Class of 2021, the most recent for which comparative data are available, Wake Forest ranked in the Top 30 of all research institutions in the portion of undergraduates declaring a major in Mathematics, Statistics or related disciplines. Interest in these areas has grown nearly sixfold in the past decade.
Math majors have been among the most frequent presenters of faculty-mentored projects at Undergraduate Research Day, the celebration of collaboration held each fall.
Courses
Sample courses for students studying Mathematics include:
Applied Multivariable Mathematics
Problem-Solving Seminar
Codes and Cryptography
Number Theory
Probability Models
View official major requirements »
Practical Experience & Skills
Specialization within mathematics may be described from two perspectives: (1) from the perspective of a career, the mathematics student may enter teaching (intermediate or secondary), may seek employment in government or industry, or may continue studying mathematics or related fields in graduate school; (2) from the perspective of mathematical content, mathematics is traditionally divided, not precisely to be sure, into pure and applied mathematics.
Students in this program will develop the following skills:
Persistence
Patience
Logical manner of thinking
Strong problem solving skills
Creativity
Comfort with abstract concepts
Analytical skills
Recognition of patterns and hidden similarities within groups of data

Get to know our Personal & Career Development Center
Clubs & Organizations
Mathematics students participate in the following clubs and organizations:
Sports Analytics Club
Women in STEM
Career Outcomes
Careers that often interest Mathematics majors include:
Accountant
Actuary
Auditor
Attorney
Bank Officer
Budget Analyst
Consultant
Controller
Credit Analyst
Educator
Financial Analyst
Investment Banker
Mortgage Banker
Numerical Analyst
Physician
Project Manager
Statistician
Technical Advisor
Technical Writer
Underwriter
Graduates have pursued careers in finance; data analysis; education; law; military service; and medicine, among others.
---
Ready to take the next step?
Related Programs
Those who are interested in Mathematics also consider the following programs:
Viewbook
At Wake Forest, we have lots of good stories to share, so we hope you'll get to know us. Browse our Viewbook to learn more.