Information Session & Campus Tour
We look forward to sharing Wake Forest with you!
On Mondays and Fridays, join us for an information session and walking tour of the Wake Forest campus, led by one of our current WFU student tour guides. This two-hour visit experience will be offered on Mondays and Fridays from 10 a.m.-12 p.m. and 2 p.m.-4 p.m.
You may also wish to include a visit to Wake Downtown. If you are interested in Engineering, Biochemistry and Molecular Biology, and the concentration in Medicinal Chemistry, you will appreciate this 45-minute walking tour, from 1 -1:45 p.m.
Information sessions—where you will receive an overview of Wake Forest and the admissions process—will be held prior to the campus tours. The one-hour information sessions start at 10 a.m. and 2 p.m., Monday and Friday, followed by the one-hour campus tours at 11 a.m. and 3 p.m., respectively, Monday and Friday.
A visit to Wake Downtown is a perfect complement to these Monday and Friday experiences.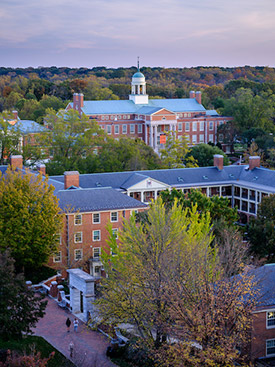 On Tuesdays, Wednesdays, and Thursdays at 11 a.m. and 3 p.m., we will offer one-hour student-led campus tours without an information session. (Note: Wake Downtown tours are not offered on these days.)
The majority of the tour will take place outside, so it is important that you check the local weather forecast and dress appropriately in case of inclement weather.
It's best to register in advance. We accommodate walk-ins only as space allows—first come, first served—which is why it's best to reserve your space now!
You can also take a take a self-guided tour to explore campus on your own or check out our virtual campus tour if you're unable to visit Wake Forest in person.
Wake Downtown also offers a self-guided tour option Monday through Friday 8 a.m.-5 p.m., no registration necessary.
Finally, you can check out our live online information session, Distinctively Wake: a conversation where you can engage with Wake Forest University admissions representatives and a current student.
We are delighted you will be visiting Wake Forest University and look forward to seeing you!
Things to know before you register
Please note, due to the possibility of changes in campus operations, the University may suspend tours. If this affects your visit, you will be notified by email.
In the case of severe weather, we must suspend tours, and, in lieu of them, we will hold a Q&A session with student tour-guides in the Welcome Center auditorium.
Make sure you arrive on time. Our tours must stick to a tight schedule, so, unfortunately, if you are tardy, you will then be given a self-guided tour-book.
On our interactive campus map, you may view and learn more about the stops that will take place on your tour.
---
Before You Arrive on Campus
If you're visiting from out-of-town and need a place to stay before or after your visit, here is a list of recommended hotels that are close to campus.
If you have any questions or concerns in advance, you may contact us at 336.758.5201 or admissions@wfu.edu prior to your arrival to campus.
If using Google to get here, please be sure to search for the Porter B. Byrum Welcome Center.
We look forward to welcoming you!
---
Self-Guided Tours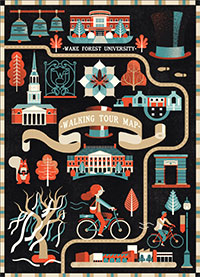 Visitors may always visit campus to take a self-guided tour. Stop by the Porter Byrum Welcome Center to pick up a self-guided tour book or download it below.
We look forward to welcoming you!
If you like what you experience, please be sure to add yourself to our mailing list. We'll keep you updated!
---
Wake Downtown Tours
Come visit Wake Downtown, home to Biochemistry, Engineering, Molecular Biology, and Medicinal Chemistry!
---
Campus Visit FAQs
Student-led walking tours will be led by a current WFU student and will last approximately 60 minutes. They will take you around and teach you about our beautiful campus, welcoming community, and academic rigor.
You may bring up to four guests on a Wake Forest student-led tour.
You may speak with faculty and staff, but you would need to arrange that discussion in advance by contacting the academic department and/or program individually, to see who is available on the date you are visiting.
You may cancel a reservation through your interview-confirmation email, but, if you experience any difficulties doing so, please simply call 336.758.5201 or email admissions@wfu.edu prior to your arrival on campus.
At Wake Forest University, you'll find maps around our beautiful campus; you can be sure that we are here to guide you!
But while maps are helpful, they can also impose grids on the flows of experience. They can be inadequate when it comes to revealing the truth and beauty of a place –
– which is precisely why we're happy to offer multiple ways for you to experience Wake Forest:
via student-led, self-guided and virtual campus tours and live online information sessions.
We want you to know us as fully as you can, just as we – as a test-optional university for more than a decade – want to know you as fully as we can, beyond the representation given by only numbers.
We look forward to welcoming you through any of the options offered above.
More than anything, we want you to map out your future – while also staying open to new discoveries.
Reserve Your Spot
Ready to experience the Wake Forest difference? Schedule your visit today!
The Details
Campus tours and information sessions will be offered at the following times:
Monday and Friday
10 a.m. information session
11 a.m. walking tour of campus
2 p.m. information session
3 p.m. walking tour of campus
Tuesday, Wednesday, and Thursday
11 a.m. walking tour of campus
3 p.m. walking tour of campus
Porter Byrum Welcome Center
P.O. Box 7305 Reynolda Station
Winston-Salem, NC 27109
Monday–Friday: 8:30 a.m.–5 p.m. Eastern Time
Saturday: CLOSED*
Sunday: CLOSED*
We are closed during all major holidays.
* Self-guided tours are available during this time. On weekends, self-guided tour-books and maps are available in boxes directly outside the Porter Byrum Welcome Center.
Questions? You can reach us at: