Main Content
We understand that fulfilling all parts of the transfer application process may be difficult at this time because of disruptions related to COVID-19. As a result, we're extending our Fall 2020 transfer application deadline to April 15. We want to support all of our prospective transfer students affected by this situation.
---
We may be just what you're looking for. Wake Forest welcomes the submission of applications from transfer students, and the number of transfer students admitted varies from semester to semester depending on the current enrollment. Traditionally, more students are admitted for the fall semester than the spring semester.
A student who has graduated from high school and then taken any college coursework must apply as a transfer applicant to Wake Forest. An applicant for admission who has attended another college must have an overall average of at least C on all college work attempted and must either be a graduate of a standard junior college or furnish a certificate of honorable dismissal stating eligibility in all respects to enter the last college attended.
Transfer students, excluding international students, are eligible for all Wake Forest need-based financial aid programs. There are no available merit-based scholarships for transfer students. For information on our need-based financial aid programs, visit our financial aid website.
International students should review information found on our International Applicants page for additional information and instructions.
Application deadlines:
Spring 2020 Term: Applications due November 1, 2019

Decisions released by mid-December

Fall 2020 Term: Applications due March 15, 2020

Decisions released by mid-May
Important transfer admission links:
Seeking a second undergraduate degree from Wake Forest University
Students desiring a second undergraduate degree must apply to transfer to Wake Forest University. You must still complete all degree requirements (including all basic and divisional requirements) prior to earning your second degree. In order to graduate from Wake Forest, you must complete at least half of your degree and half of your major and minor (if applicable) at Wake Forest.
Submit all materials to:
Undergraduate Admissions
PO Box 7305
Winston-Salem, NC 27109-7305
Seeking Unclassified Student status at Wake Forest University (non-degree seeking)
Individuals desiring to continue their education as non-degree seeking students may take courses at Wake Forest. Only students who have already earned an undergraduate degree will be considered. The following items must be submitted in order for your application to be considered:
Completed Unclassified Student Application [PDF]
Final college transcript (must state degree earned and date of graduation)
$65 application fee (non-refundable)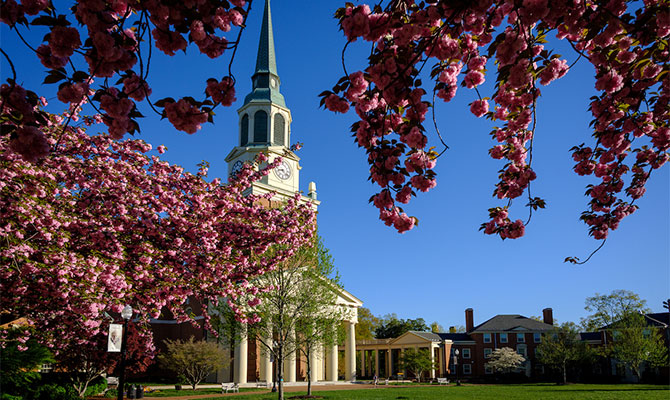 Ready to Apply?
Go for it. Start the process and let's see if this is a fit.