All about the Eats
Everybody likes options, and Wake Forest Dining believes their commitment to choice goes beyond offering a second entree. It includes locations (multiple buildings), providers (outside brand names), hours (24/7), and specific dietary needs guided by principles of healthy eating and cultural awareness.
Wake Forest Dining operates 15 venues in eight buildings on campus, providing something for every palate and every whim.
Thousands of Wake Foresters eat here daily and by choice. And because of choice, for that matter. All-you-care-to-eat dining for breakfast, lunch, and dinner includes home-style favorites, rotisserie items, sandwiches, a salad and pasta bar, international meals, homemade desserts, and more.
---

Wake Forest offers a veritable cornucopia—food wordplay!—of on-campus dining options where students may sit down and enjoy a meal or take it to go, at almost any time of day. And the food is good. From exhibition cooking to vegan dining to your favorite chains, you will find it all in our dining halls.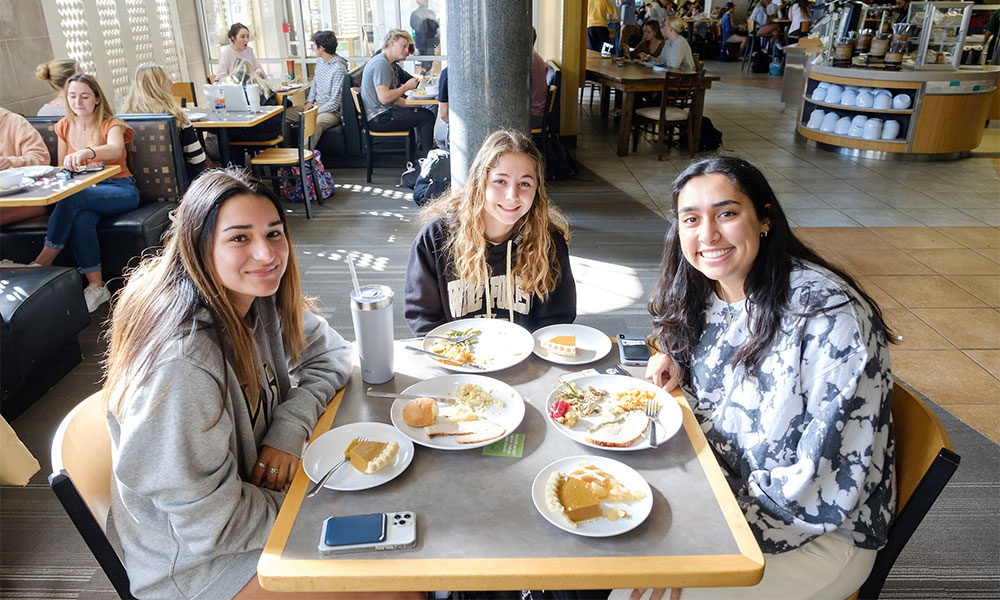 Where you can satisfy your hunger cravings:
Our most popular campus eateries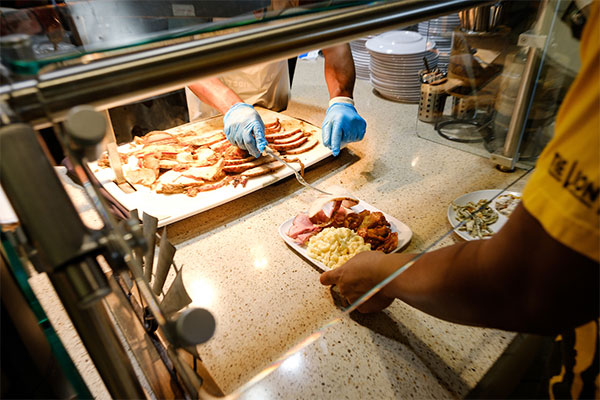 "The Pit"
The Harvest Table (referred to as "The Pit" by students, faculty and staff because of its location in the basement of Reynolda Hall) features food prepared fresh right before your eyes. Great exhibition cooking, ethnic dishes, American favorites and a variety of healthy options all combine to create a state-of-the-art dining program at WFU.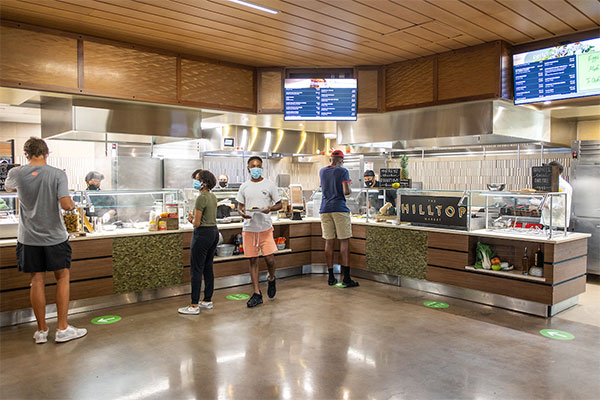 Hilltop Market (North Dining Hall)
This all-you-care-to-eat dining hall combines the dining style of a modern servery with the fresh and healthy choices of a traditional residential restaurant. The menu features a wide variety of chef-driven recipes featuring American favorites and global cuisine. Meals are made fresh daily and designed to be nutritionally balanced utilizing products locally procured and responsibly sourced whenever possible.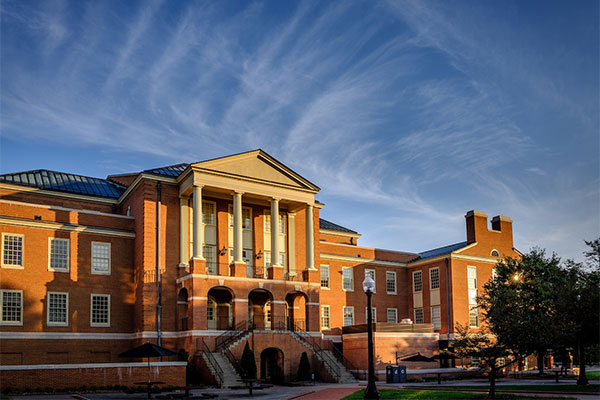 Benson Food Court
Located on the second floor of the Benson University Center, Benson Food Court features national and local favorites, including Chick-fil-A, Yamas Mediterranean Street Food, Bento (freshly prepared sushi and Asian cuisine hot bar), Forest Greens (chopped salads, deli, Sambazon Acai Bowl) and the 336 Market.
Grab a bite to eat in just minutes.
Most dining areas are within a five-minute walk of the first-year residence halls. After class, you can grab a snack and enjoy it on one of our beautiful Quads. Use the map below to see the proximity of many of our dining locations from our residence halls.