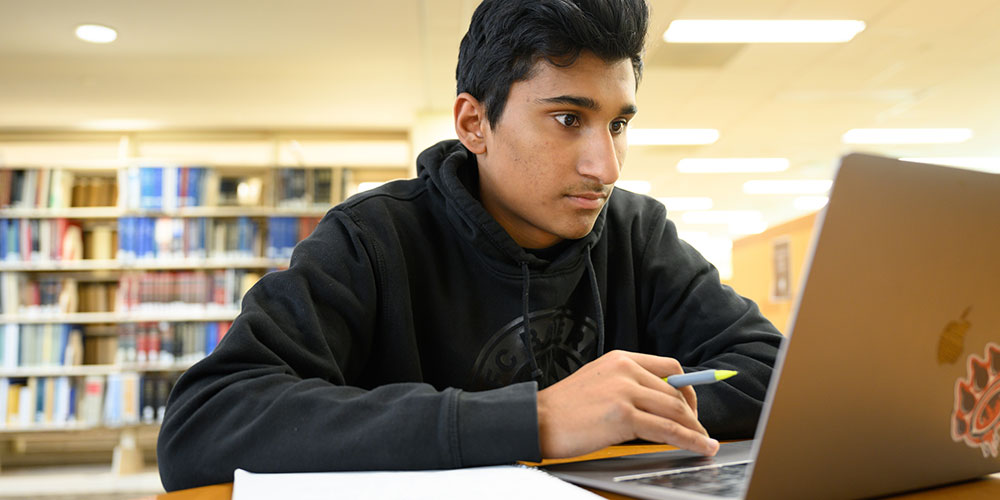 Mathematical Business majors learn from faculty in several disciplines, delving into real-world case studies and learning how various techniques in math, statistics and computer science can combine to solve problems. If you've ever been curious about why products are placed where they are in retail outlets, for example, you might fit quite well in the intersection of commerce and data.
---
Did You Know?
Math-based careers are expected to grow 28% through the rest of this decade. That is appreciably faster than the national average of other occupations, according to the Bureau of Labor Statistics.
Courses
Sample courses for students studying Mathematical Business include:
Strategic Management
Multivariate Statistics
Legal Environment of Business
Management Information Systems
Organizational Behavior
View official major requirements »
Practical Experience & Skills
Mathematical Business is an interdisciplinary major offered jointly by the Schools of Business and the Department of Mathematics and Computer Science. As such, it draws from the strengths of these two disciplines, giving the students access to a wide variety of expertise and experiences that these two academic areas possess.
Students in this program will develop the following skills:
Analytical reasoning
Communication
Interpersonal skills
Applying theory
Reading graphs
Quick thinking
Conceptual ability
Group cohesion
Presentation ability
Public speaking

Get to know our Personal & Career Development Center
Clubs & Organizations
Mathematical Business students participate in the following clubs and organizations:
Dow Jones Club
Sports Analytics Club
Management Consulting Club
Alpha Kappa Psi
Marketing and Advertising Club
Finance Club
Career Outcomes
Possible career paths include actuarial and management consulting professions as well as various staff positions in manufacturing, finance, marketing and information systems.
In addition to common careers in accounting and financial consulting, recent Mathematical Business majors have planned location sites for Chick-fil-A; worked in ocean freight logistics; and been human resources executives.
---
Ready to take the next step?
Related Programs
Those who are interested in Mathematical Business also consider the following programs:
Viewbook
At Wake Forest, we have lots of good stories to share, so we hope you'll get to know us. Browse our Viewbook to learn more.