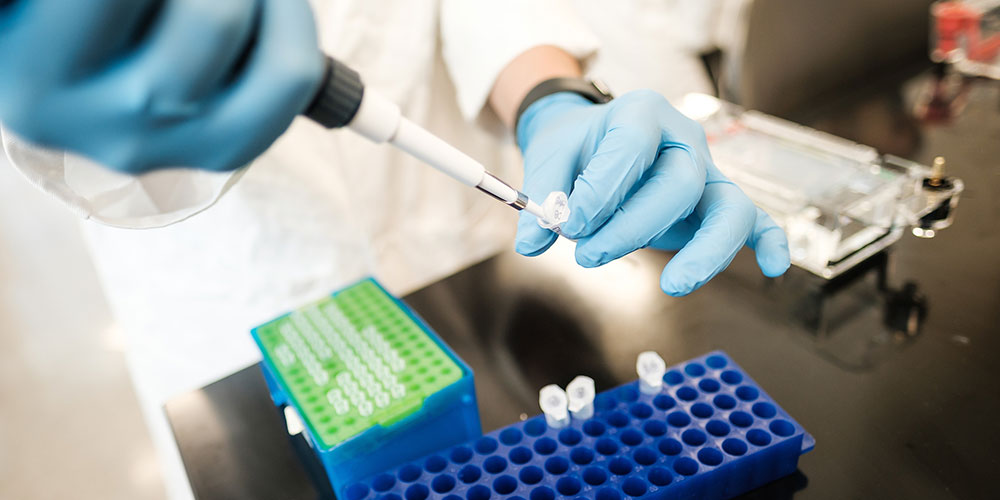 The Biochemistry & Molecular Biology major provides a strong foundation in biological chemistry and molecular biology, and related topics at the interface of these two disciplines. The major is designed to build conceptual understanding and practical and critical thinking skills to address current biological, biochemical, and biomedical challenges.
---
Did You Know?
Biochemistry & Molecular Biology is a forward-looking discipline serving a rapidly growing sector. The program is based out of Wake Downtown, a modern, spacious and vibrant facility 13 minutes from our main campus. There, students work side-by-side with graduate students and faculty on research projects.
Majoring in Biochemistry and Molecular Biology grew 248% from Spring 2017 (35 students) to Spring 2023 (122 students).
In the 2022 and 2023 graduating classes, 40% of those declaring their primary major in Biochemistry and Molecular Biology presented a faculty-mentored project at Undergraduate Research Day at some point.
Dr. Patricia Dos Santos recently received a $680,000 grant from the National Science Foundation to study clusters in cells. Dr. Dos Santos' ultimate goal is advancement in pharmaceutical development.
Courses
Sample courses for students studying Biochemistry & Molecular Biology include:
Epigenetics
Genomics
Molecular Signaling
Senior Research Project
View official major requirements »
Practical Experience & Skills
Students will select a major concentration either in biochemistry or in molecular biology, which differ only in elective courses. A required research experience, culminating in a senior project, will give students strong experimental skills and provide insight into the experimental approaches and results that demonstrate the function of biological molecules.
Students in this program will develop the following skills:
Organizing ideas/information
Applying scientific concepts to problems
Making projections from data
Make critical observations and appropriate decisions
Operate scientific equipment
Organize and maintain accurate records
Good vision and manual dexterity
Conduct and clearly explain scientific research

Get to know our Personal & Career Development Center
Clubs & Organizations
Biochemistry & Molecular Biology students participate in the following clubs and organizations:
American Chemical Society
Beta Beta Beta
Bioethics Club
Women in STEM
Career Outcomes
Careers that often interest Biochemistry & Molecular Biology majors include:
Associate Scientist
Biochemist
Laboratory Assistant
Laboratory Technician
Pharmacist Technician
Research Assistant
Research Associate
Research Scientist
Scientist
Recent graduates are in financial consulting; engineering; and in medical schools across the country.
---
Ready to take the next step?
Related Programs
Those who are interested in Biochemistry & Molecular Biology also consider the following programs:
Viewbook
At Wake Forest, we have lots of good stories to share, so we hope you'll get to know us. Browse our Viewbook to learn more.