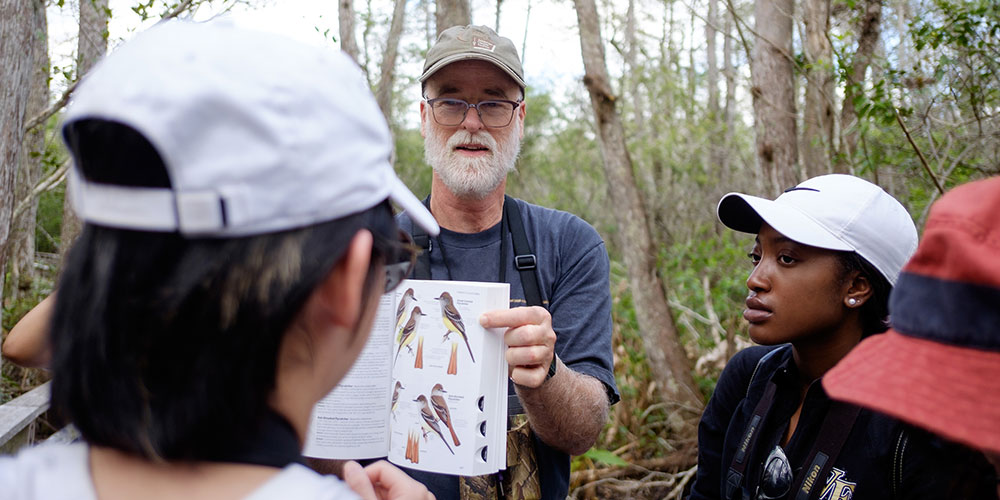 Biology encompasses the study of all living organisms, including microbes, plants, and animals. The study of biology includes various aspects of life; including basic organization (molecular, cellular, tissues, organs), how organisms function and their roles in the natural environment, how hereditary information is transferred, and development of biotechnology.
---
Did You Know?
Wake Forest was the first college in the South to teach biology in a laboratory. In recent years, the Biology department, its faculty and students have benefited from the renovation of the main Reynolda Campus facility and the opening of a new one, the biomedical center at Wake Downtown, a 13-minute shuttle ride away.
Students declaring their primary major in Biology lead the way in faculty-mentored presentations at Undergraduate Research Day, the Celebration of Collaboration that coincides with Family Weekend. In the past 10 years, Biology majors have accounted for 15% of all presentations.
In the past graduating classes (2019-23), Biology has been the seventh most popular major overall and the fifth most popular in Wake Forest College.
Dr. Miles Silman is one of the world's leading experts in efforts to preserve Amazon forests.
Courses
Sample courses for students studying Biology include:
Biological Principles
Biology and the Human Condition
Ecology and Conservation Biology of Coral Reefs
Population Genetics
Biomechanics
View official major requirements »
Practical Experience & Skills
Biology graduates are broadly trained and well prepared for admission into strong graduate programs in the biological sciences and professional schools (medical, dental, and veterinary). They may also directly assume positions in government, education, industry, or certain technical fields.
Students in this program will develop the following skills:
Organizing ideas/information
Applying scientific concepts to problems
Making projections from data
Ability to make critical observations and appropriate decisions
Ability to operate scientific equipment
Ability to organize and maintain accurate records
Ability to conduct and clearly explain scientific research

Get to know our Personal & Career Development Center
Clubs & Organizations
Biology students participate in the following clubs and organizations:
Beta Beta Beta
Bioethics Club
Association of Pre-Physician Assistants
Health Occupation Students of America
Women in STEM
Career Outcomes
Careers that often interest Biology majors include:
Biochemist
Bioinformaticist
Blood Bank Technologist
Clinical Pathologist
Crime Lab Analyst
Cytotechnologist
Dentist
Dietician
Educator
Environmental Specialist
Field Study Coordinator
Food and Drug Inspector
Genetic Counselor
Health Program Assistant
Hemotherapist
Histologist
Lab Technician
Legal Assistant
Medical Equipment Sales
Medical Investigator
Medical Librarian
Medical Writer
Microbiologist
Optometrist
Parasitologist
Pharmaceutical Sales Representative
Physical Therapist
Physician
Physician's Assistant
Public Health Specialist
Quality Control Specialist
Toxicologist
Although many Biology graduates enjoy successful careers in medical fields, they are also attorneys; ministers; financial advisors; and involved in dozens of other specialties.
---
Ready to take the next step?
Related Programs
Those who are interested in Biology also consider the following programs:
Viewbook
At Wake Forest, we have lots of good stories to share, so we hope you'll get to know us. Browse our Viewbook to learn more.