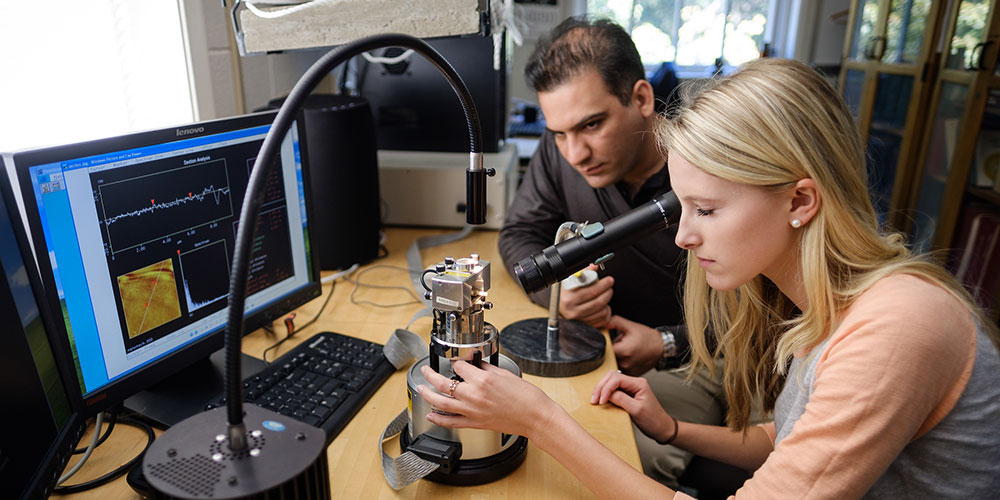 The merger of biology, chemistry, physics and math, biophysics is a tremendous problem-solver across any spectrum. Biophysics is that branch of knowledge that applies the principles of physics and chemistry and the methods of mathematical analysis and computer modeling to biological systems, with the ultimate goal of understanding at a fundamental level the structure, dynamics, interactions, and ultimately the function of biological systems.*
---
Did You Know?
Wake Forest faculty research studies, among other areas, the properties and particulars of blood flow; the physical properties of cancer cells vs. normal cells; and the design and application of new statistical methods to understand molecular data.
Brandon Turner ('12) is a Rhodes Scholar who has used data to try to predict melanoma patients' response to immunotherapy. Turner was a Harvard Radiation Oncology Resident in 2022-23.
Courses
Sample courses for students studying Biophysics include:
Bioinformatics
Molecular Evolution
Electronics
Computational Systems Biology
View official major requirements »
Clubs & Organizations
Biophysics students participate in the following clubs and organizations:
Association of Computing Machinery (Student chapter)
Health Occupation Students of America
Women in STEM
Association of Pre-Physician Assistants
Career Outcomes
Careers that often interest Biophysics majors include:
Chemist
Clinical Research Coordinator
Ecologist
Environmental Scientist
Laboratory Technician
Microbiologist
Pharmacologist
Radiologist
Research Associate
Professions of recent Biophysics graduates include medicine; data science; financial planning; and many more.
---
Ready to take the next step?
Related Programs
Those who are interested in Biophysics also consider the following programs:
Viewbook
At Wake Forest, we have lots of good stories to share, so we hope you'll get to know us. Browse our Viewbook to learn more.