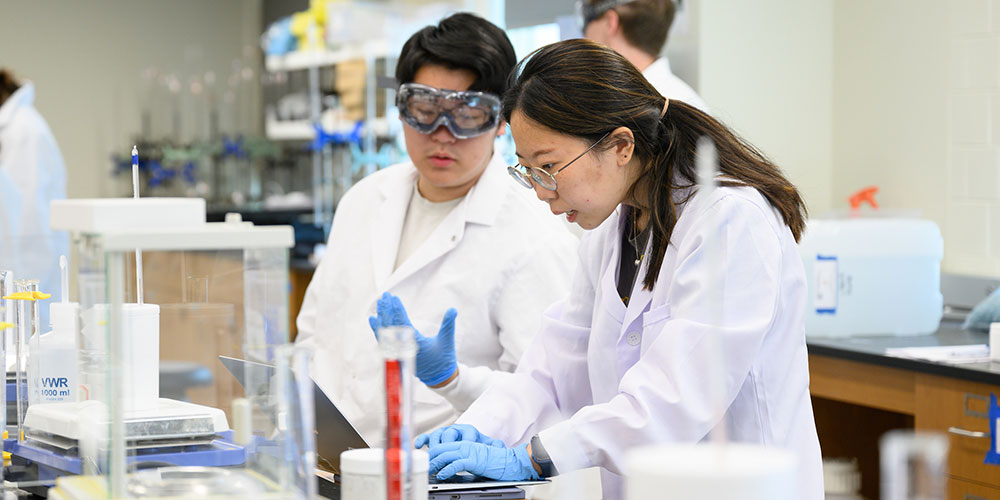 Chemistry provides answers to questions about the living and material world around us. Knowledge of chemistry is essential to understanding fields ranging from cell biology to materials science.
---
Did You Know?
Four majors certified by the American Chemical Society are offered: (B.S., B.S with concentration in Medicinal Chemistry & Drug Discovery, B.S with concentration in Biochemistry, B.S with concentration in Materials Chemistry) as well as a Bachelor of Arts.
In the past 12 celebrations of Undergraduate Research Day (2010-19, 2020-21), a total of 131 eventual graduates declaring their primary major in Chemistry have made at least one presentation. That's the third-highest total of any major.
Courses
Sample courses for students studying Chemistry include:
Everyday Chemistry
Theory and Methods of the Quantitative Analysis Lab
Medicinal Chemistry
Nanochemistry in Engineering and Medicine
View official major requirements »
Practical Experience & Skills
Chemistry majors develop skills that may lead to a wide variety of occupational tracks. Trained to think both analytically and creatively, chemists solve practical as well as research problems– skills that are readily transferable to many careers.
Students in this program will develop the following skills:
Ability to make critical observations and appropriate decisions
Ability to operate scientific equipment
Ability to organize and maintain accurate records
Good vision and manual dexterity
Ability to conduct and clearly explain scientific research
Strong mathematical background

Get to know our Personal & Career Development Center
Clubs & Organizations
Chemistry students participate in the following clubs and organizations:
American Chemical Society
Beta Beta Beta
Bioethics Club
Women in STEM
Career Outcomes
Careers that often interest Chemistry majors include:
Astronomer
Chemical Engineer
Chemist
Dentist
Dietician
Educator
Food and Drug Analyst
Food Technologist
Forensic Chemist
Genetic Counselor
Hospital Administrator
Laboratory Analyst
Medical Laboratory Technician
Medical Researcher
Meteorologist
Pharmaceuticals Researcher
Pharmacist
Physician
Toxicologist
Kasha Patel ('12) is a former NASA climate-change researcher who has become a reporter and editor on the topic for The Washington Post. For several years, she has managed to do the impossible: stand-up comedy based on science.
In the past 20 years, approximately 62% of Chemistry graduates have pursued further academic degrees in their first post-Wake Forest destination.
In addition to graduate studies at universities including Harvard, Johns Hopkins, Vanderbilt and Wake Forest, the first few cohorts of graduates have worked as an Emergency Medical Technician and product-development executives, among other industries and jobs.
---
Ready to take the next step?
Related Programs
Those who are interested in Chemistry also consider the following programs:
Viewbook
At Wake Forest, we have lots of good stories to share, so we hope you'll get to know us. Browse our Viewbook to learn more.