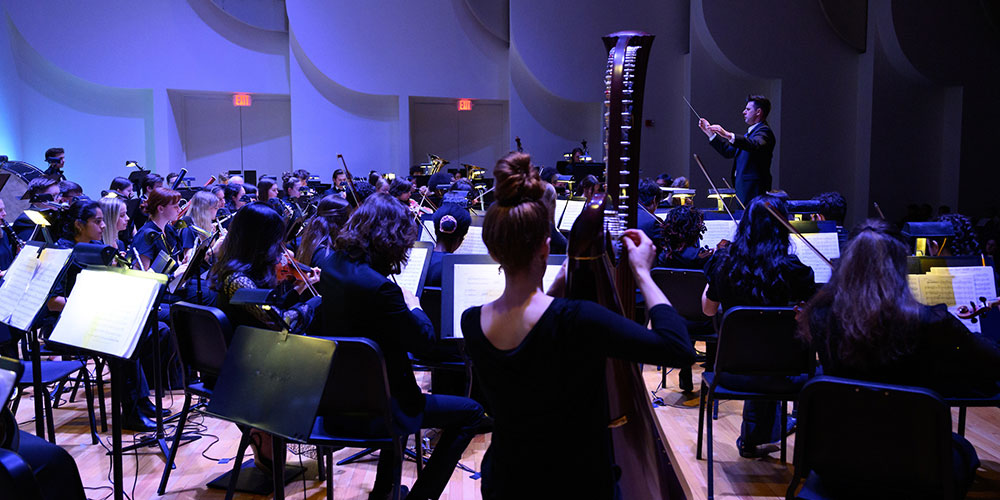 The Music program at Wake Forest is small enough to accommodate a variety of student interests. All students receive a solid grounding in music theory and history, with additional coursework in performance and ensembles. More specific interests are served through elective courses in performance, church music, theory and history.
---
Did You Know?
The Music program offers one major with a choice of two concentrations: Performance and Music in Liberal Arts.
Wake Forest offers students the opportunity to display their talents in formal organizations, which include bands, choirs, orchestras, chamber ensembles and world music ensembles. Every year, students participate in dozens of public performances.
In February of 2022, student performers were able to join acclaimed cellist Yo-Yo Ma on stage as part of the Face to Face speaker series.
Courses
Sample courses for students studying Music include:
Music History and Culture
Music Theory for Popular and Jazz Styles
Improvisation
Music Production and Recording
View official major requirements »
Practical Experience & Skills
Music majors may focus on a number of distinct areas of specialization: performance, music theory, composition, or education. Some performance students may focus on developing skill with one musical instrument, while others may specialize in a number of areas.
Students in this program will develop the following skills:
Ability to read, write, and perform music
Creativity and artistic expression
Ability to concentrate intensely for long periods of time
Ability to perceive patterns/structures
Strong performance techniques
Able to lead and participate in small and large groups
Ability to keep audience's interest
Perseverance

Get to know our Personal & Career Development Center
Clubs & Organizations
Music students participate in the following clubs and organizations:
Momentum Crew
Colloquium Musicum
Wake Forest Gamelan
Wake Forest Chinese Ensemble
Afro-Cuban Drumming Ensemble
Musical Empowerment
Career Outcomes
Careers that often interest Music majors include:
Artist and Repertoire Person
Background Music Designer
Band Director
Band Leader
Church Choir Director
Composer/Arranger
Copyright Specialist
Critic
Director
Disc Jockey
Engineer/Mixer
Film Music Director/Editor
Instrument Manufacturer
Instrument Technician
Music Attorney
Music Critic
Music Education Director
Music Equipment or Instruments Sales Representative
Music Minister
Music Publicist
Music Software Designer
Music Store Manager
Music Teacher/Professor
Music Therapist
Musician
Orchestra Librarian
Orchestra Manager
Promoter
Recording Technician
School Music Programs Coordinator
Singer/Performer
Special Events Coordinator
Studio Musician
Talent Agent
Tour Manager
Writer/Editor
Alumni include judges, social workers, business development executives, museum curators and one of the members of the folk band The Kingston Trio.
---
Ready to take the next step?
Related Programs
Those who are interested in Music also consider the following programs:
Viewbook
At Wake Forest, we have lots of good stories to share, so we hope you'll get to know us. Browse our Viewbook to learn more.