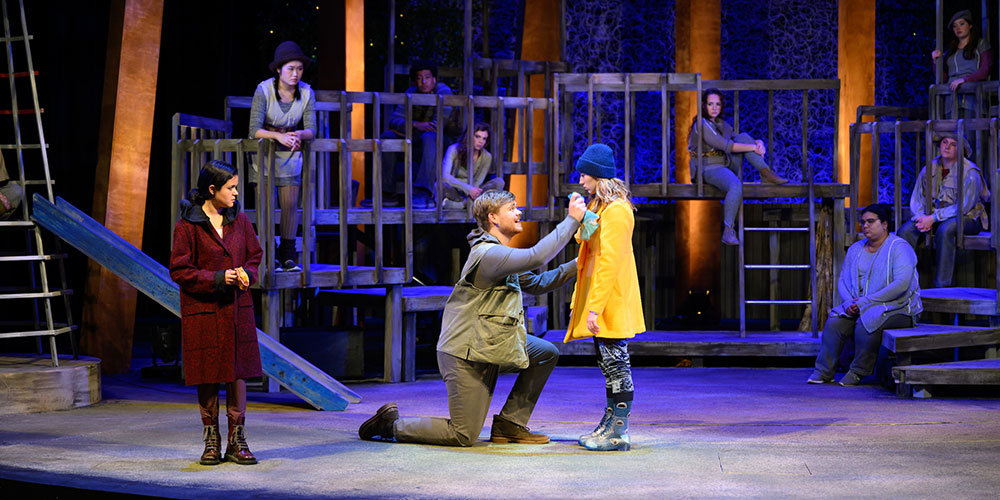 Theatre majors learn how to communicate in multiple forms and settings no matter their specialty. They are exposed not only to acting but to acoustics, aesthetics and art, among others.
---
Did You Know?
Theatre majors form the heart of several student drama organizations, including the four plays produced annually by Wake Forest Theatre.
Theatre major Elinor Grage ('22) earned the prestigious Fulbright Scholarship, through which she taught English as a Second Language in the Czech Republic.
Courses
Sample courses for students studying Theatre include:
Voice and Movement
Theatrical Scene Design
Directing
Lighting
View official major requirements »
Practical Experience & Skills
With the broad liberal arts education all students receive at Wake Forest, graduates emerge as strong critical thinkers, prepared to face life's many challenges. Through discipline, performers, directors, designers, and stage managers learn clear self-expression and therefore grow in their ability to communicate well with others orally, visually, and in writing. They also learn about themselves and develop self confidence, organizational and analytical skills, and creative approaches to problem solving. Wake Forest theatre majors have become actors, directors, stage managers, designers, theatre artistic directors, professors, cabaret singers, playwrights, and members of comedy troupes. Others have made careers outside of the arts and enjoy participating in community theatre. Many graduates also serve on boards for civic arts organizations.
Students in this program will develop the following skills:
Creativity
Expressive ability
Keen observation of human traits and characteristics
Conceptual ability
Exposure to drama of various historical time periods
Quick thinking
Ability to relate to abstract ideas
Oral communication skills
Creative problem solving and interpretation
Memorization skills

Get to know our Personal & Career Development Center
Clubs & Organizations
Theatre students participate in the following clubs and organizations:
Wake Forest Theatre
Anthony Alston Players
Lilting Banshee Comedy Troupe
Lost in Translation
BiMoo Chinese Theatre Club
Career Outcomes
Careers that often interest Theatre majors include:
Actor/Actress
Advertising Specialist
Artist Agent
Box Office Manager
Casting Agent
Costume Designer
Director
Educator
Filmmaker
Hair/Make-up Artist
Marketing Director
Mascot
Production Assistant
Public Relations Specialist
Set, Lighting, or Prop Designer
Special Effects Manager
Stage Manager
Technical Director
Theatre graduates include a story writer and editor on the CBS series Bob Hearts Abishola; actors; architects; teachers; doctors; and aerospace engineers.
---
Ready to take the next step?
Related Programs
Those who are interested in Theatre also consider the following programs:
Viewbook
At Wake Forest, we have lots of good stories to share, so we hope you'll get to know us. Browse our Viewbook to learn more.