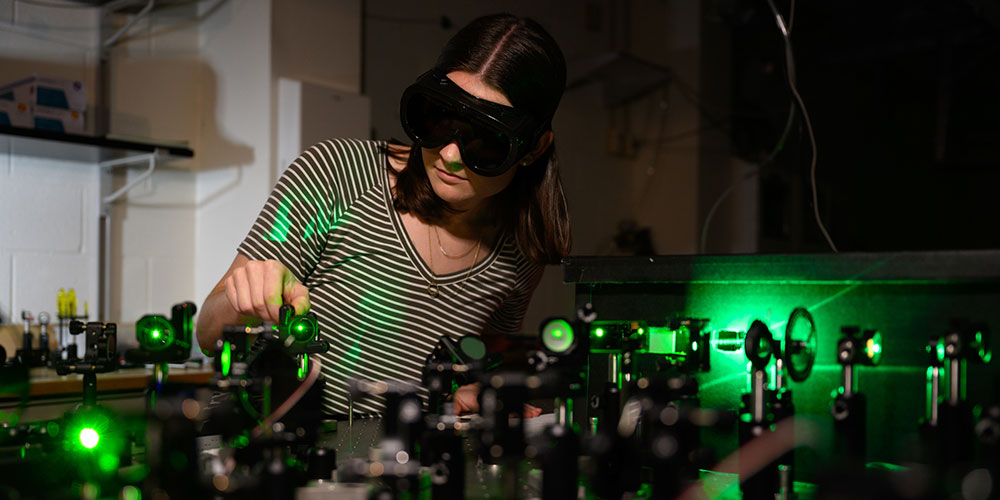 Physics, the most basic of the sciences, has intellectual and useful aspects. The intellectual component resides in our innate desire to understand the physical characteristics of our universe.
---
Did You Know?
Wake Forest's Physics program addresses all core areas and concentrations, and its interdisciplinary nature—other sciences, business, law et al—fosters communication and teamwork skills.
One ongoing research project seeks to help create foldable smartphones or rollable tablet devices that are as powerful, reliable and affordable as conventional devices.
Over time, six Physics majors have earned prestigious national scholarships for further study. They include four Goldwater Scholars, one Gates-Cambridge Scholar and one Fulbright Scholar.
Courses
Sample courses for students studying Physics include:
Mechanics Waves and Heat
The Physics of Music
Electronics
Extragalactic Astronomy and Cosmology
Analytical Mechanics
Thermodynamics and Statistical Mechanics
View official major requirements »
Practical Experience & Skills
There are a variety of different opportunities for students majoring in physics. Research jobs are found in industrial laboratories, government laboratories, and universities. Teaching jobs are available at all levels of education, from middle school to the university. University physicists normally teach and do research with students.
The computer industry values the analytical and problem solving skills that physics majors bring. Computational physics is the fastest growing research area within the discipline of physics, and the skills acquired by physics majors in pursuing computational physics nicely complement the expertise they learn in computer science courses. Such students are finding rewarding careers in programming and systems design.
The Physics major is also excellent preparation for students planning to enter science-related businesses, MBA school, medical school, or law school. Medical schools seek out students with majors in physics because of the high-tech nature of medical care. MBA schools consider a major in physics outstanding preparation for an understanding of manufacturing and the high-tech aspect of our economy.
Students in this program will develop the following skills:
Aptitude toward making critical observations
Proficiency at reading, writing, and speaking
Problem solving
Analytical thinking
Creative thinking

Get to know our Personal & Career Development Center
Clubs & Organizations
Physics students participate in the following clubs and organizations:
STEM Academy
Women in STEM
Career Outcomes
Careers that often interest Physics majors include:
Astronomer
Cardiac Imaging Researcher
Educator
Engineer
Hydrologist
Laboratory Technician
Nuclear Plant Manager
Operations Analyst
Optical Devices Designer
Physicist (various fields)
Physiognomist
Satellite Data Analyst
Seismologist
Stratigrapher
Physics majors have become financial consultants; data scientists; NASA engineers; airline pilots; physicians; and attorneys, among other professions.
---
Ready to take the next step?
Related Programs
Those who are interested in Physics also consider the following programs:
Viewbook
At Wake Forest, we have lots of good stories to share, so we hope you'll get to know us. Browse our Viewbook to learn more.