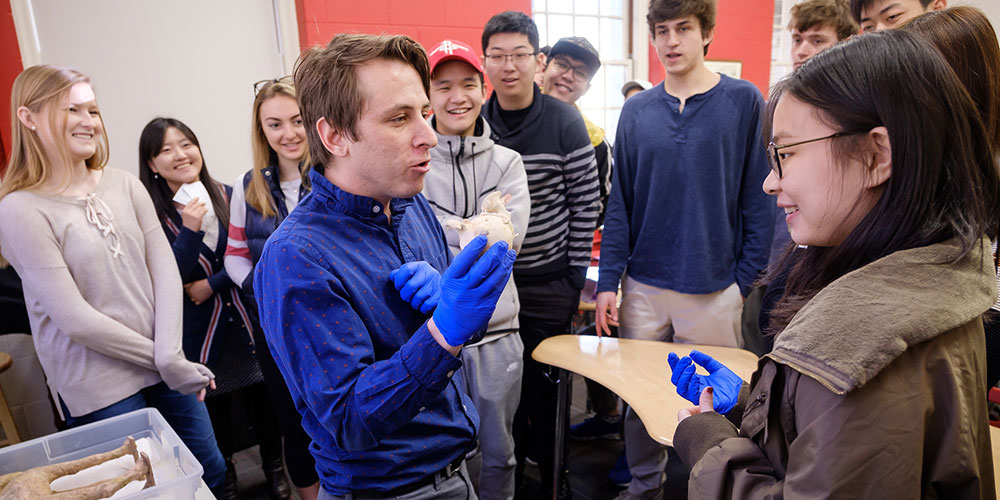 History majors will study major social, economic, political and cultural events of the past. Students are encouraged to develop an understanding of the history and culture of ancient, medieval, as well as modern times, including those societies outside traditional American and European boundaries.
---
Did You Know?
Wake Forest's History curriculum can take you almost anywhere you'd like to visit. It offers no less than 10 concentrations covering economics, religion, politics, science, sociology and areas.
Over time, 20 History majors have earned the Rhodes (2), Truman (3) or Fulbright (15) Scholarship. Other prominent alumni include Ed Reynolds ('64), Wake Forest's first Black student and a distinguished professor at UC San Diego.
Courses
Sample courses for students studying History include:
World Civilizations Since 1500
Big History: A History of the Cosmos and Humanity's Place In It
Health, Disease and Healing in World History
Race, Gender and the Courts
History Museums
View official major requirements »
Practical Experience & Skills
A sound component of a liberal arts education, history serves practical needs by providing solid background for pursuing graduate studies or a career in law, education, business, advertising, ministry, journalism, government service, or preservation. The history major meets an important need for the business world by providing the ability to analyze and write effectively, and by developing a sense of balanced judgment. For those who choose to teach, the major provides necessary subject-matter content.
Students in this program will develop the following skills:
Ability to analyze historical works
Research skills as demonstrated in papers and exams
Capacity to learn a foreign language
Talented at evaluating and interpreting events, information, and ideas as they relate to the past
Skilled in written and oral expression of ideas
Time management skills
Ability to retain diverse sets of information

Get to know our Personal & Career Development Center
Clubs & Organizations
History students participate in the following clubs and organizations:
Career Outcomes
Careers that often interest History majors include:
Archivist
Attorney
CIA/FBI Agent
Consultant
Curator
Editor
Educator
Financial Analyst
Foreign Service Officer
Journalist
Legislative Aide
Lobbyist
Market Analyst
Museum Director
Physician
Politician
Press Secretary
Public Relations Specialist
Writer
Graduates have enjoyed careers in finance, military service, law, education and several other sectors.
---
Ready to take the next step?
Related Programs
Those who are interested in History also consider the following programs:
Viewbook
At Wake Forest, we have lots of good stories to share, so we hope you'll get to know us. Browse our Viewbook to learn more.