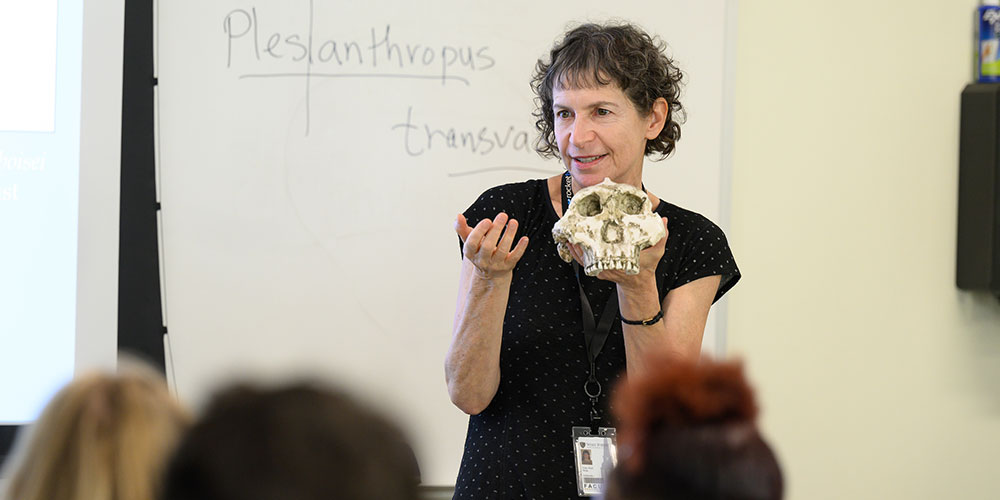 Anthropology majors study humankind, from its beginnings millions of years ago to the present day. It is one of the most versatile disciplines in the College, is the principal academic and practical resource for multi-cultural awareness in the University and surrounding communities. That's a refined way of saying we dig difference. Literally.
---
Did You Know?
Anthropology majors have also declared minors in nearly every minor offered at Wake Forest in the past decade, ranging from Entrepreneurship and Global Trade and Commerce to Linguistics.
Various Mexican objects originally collected by Sally Grossman, the woman who appeared with Bob Dylan on the cover of his 1965 album "Bringing It All Back Home," were recently donated to the Lam Museum at Wake Forest, the only museum in North Carolina dedicated to the study of global cultures.
Courses
Sample courses for students studying Anthropology include:
Linguistics
Museum Studies
Archaeological Theory and Practice
Myth, Ritual and Symbolism
View official major requirements »
Practical Experience & Skills
The broad focus within the Anthropology major is especially valuable to students seeking to develop expertise in planning, decision-making, and management. Anthropology's scope and intellectual perspective prepares students to make objective, far-sighted decisions at the professional level in any career field, either at home or abroad.
Students in this program will develop the following skills:
Ability to summarize information
Attention to detail
Communication
Conducting field studies
Interviewing
Planning projects
Sampling, gathering, and organizing data
Surveying
Understanding of different cultures and diversity
Writing

Get to know our Personal & Career Development Center
Clubs & Organizations
Anthropology students participate in the following clubs and organizations:
Career Outcomes
Careers that often interest Anthropology majors include:
Archeologist
College professor
Crime scene investigation
Environmental anthropologist
Medical anthropologist
Museum curator
Positions in defense and national security
Public administration
Careers enjoyed by recent Anthropology graduates include brand director of Benchwarmers Bagels; data analysts for the Centers for Disease Control and Prevention; museum curators; and U.S. Army Special Forces officers.
---
Ready to take the next step?
Related Programs
Those who are interested in Anthropology also consider the following programs:
Viewbook
At Wake Forest, we have lots of good stories to share, so we hope you'll get to know us. Browse our Viewbook to learn more.