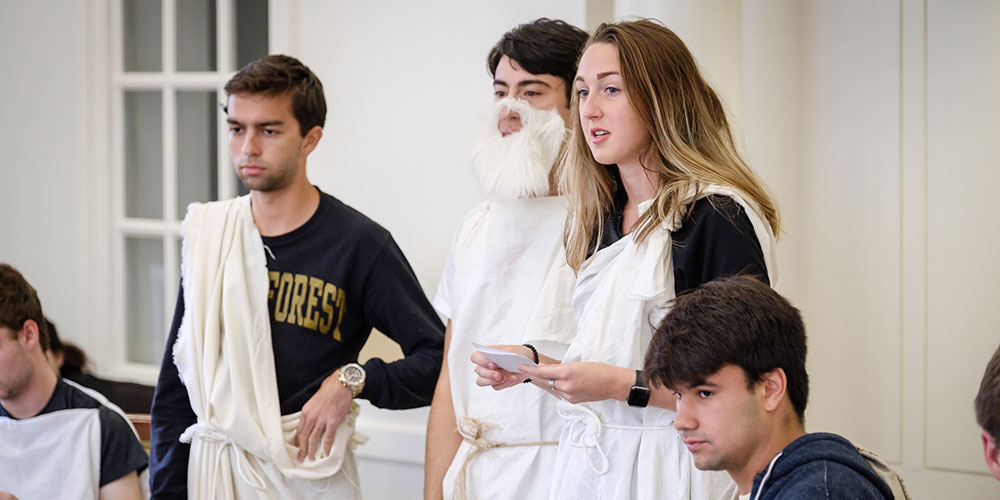 At Wake Forest, majoring in Classical Languages transcends the exploration of a language and its literature. It celebrates these cultures' contributions to modern society but is not afraid to address their misappropriation.
---
Did You Know?
Majors in Latin and Greek are drawn to a variety of other interests. In recent years, 86% of them have declared another major and/or a minor or minors.
Courses
Sample courses for students studying Classical Languages include:
Classics Beyond Whiteness
Ethics in Greece and Rome
Women, Gender and Sexuality in Antiquity
Greek Tragedy
Roman Satire
View official major requirements »
Practical Experience & Skills
Majoring in Classical Languages can help prepare students to enter graduate school in classics, comparative literature, linguistics, history, as well as other fields. Many Wake Forest classics majors have gone on to graduate and professional study at distinguished institutions and have been successful in pursuing higher degrees.
Students in this program will develop the following skills:
Ability to assimilate new information and integrate it with earlier knowledge
Facility in organizing and remembering extensive vocabulary
An understanding of Greek and Latin grammar, which leads to a greater understanding of language in general
Facility in using language
Proficiency in reading, speaking, and writing
Propensity to think logically
Analytical and problem solving skills

Get to know our Personal & Career Development Center
Clubs & Organizations
Classical Languages students participate in the following clubs and organizations:
Classical Association of the Middle West and South
North Carolina Classical Association
Career Outcomes
Careers that often interest Classical Languages majors include:
Anthropologist
Attorney
Consultant
Curator
Editor
Educator
Foreign Service Officer
Journalist
Librarian
Minister
Physician
Technical Writer
Travel Agent
Recent Classical Languages majors are working in financial consulting (Deloitte); insurance (Chubb); banking (Citizens Bank); and several other industries.
---
Ready to take the next step?
Related Programs
Those who are interested in Classical Languages also consider the following programs:
Viewbook
At Wake Forest, we have lots of good stories to share, so we hope you'll get to know us. Browse our Viewbook to learn more.