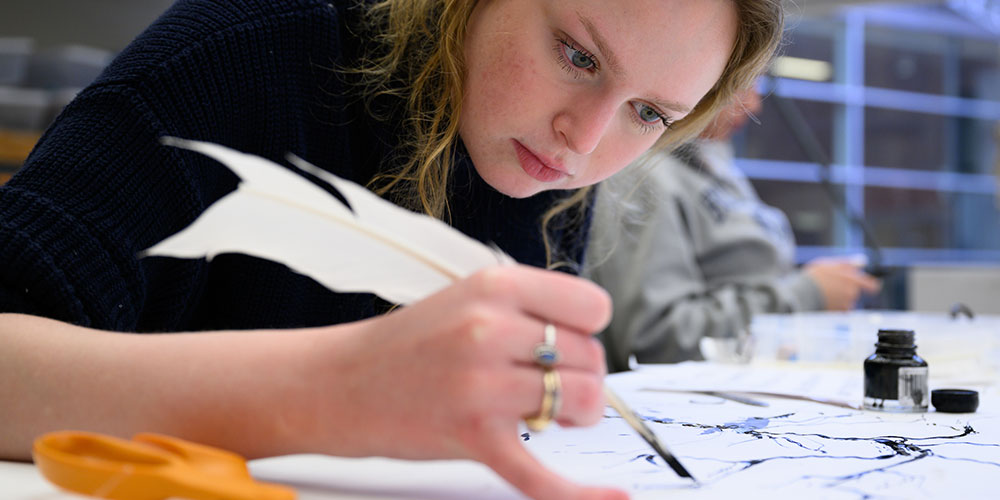 The study of Art History and studio art provides a historical, cultural, and social context for the comprehension, evaluation, and creation of visual art. The centuries-spanning study of masters both attracts and produces interests as diverse as the styles, forms and wider cultural impact of the art that grabs our attention.
---
Did You Know?
Nearly 90% of recent graduates declaring their primary major in Art History have also declared a second major and/or a minor or minors.
Courses
Sample courses for students studying Art History include:
History of World Architecture
Classics of World Cinema
History of Photography
Early Italian Renaissance Art
View official major requirements »
Practical Experience & Skills
The Department of Art offers small class sizes, one-on-one instruction, careful mentoring, interdisciplinary flexibility and a strong commitment to the liberal arts. Studying art at Wake Forest can prepare you for a career that combines the study of art with a wide variety of other interests.
Example additional opportunities for Art majors include:
Exhibit work at START Gallery in Reynolda Village, Hanes Art Gallery, or downtown Winston Salem venues.
Curate exhibitions, exhibit and sell your work, and gain experience in a professional gallery setting at START: WFU Student Art Gallery.
Seek internships in museums and cultural organizations.
The Management in the Visual Arts course offers business and art students the opportunity to travel to New York City for an exceptional and privileged look into the inner workings of the "Art World".
The Art Department's Annual Overnight Trip to Washington DC is an immersive art experience.
Honors in Art History offers the opportunity to develop an original research project and thesis.
Students in this program will develop the following skills:
Ability to analyze works of art
Analytical skills
Communication skills
Problem solving skills
Research skills as demonstrated in papers and exams
Time management skills
Visual analysis

Get to know our Personal & Career Development Center
Clubs & Organizations
Art History students participate in the following clubs and organizations:
Career Outcomes
Careers that often interest Art History majors include:
Advertising Professional
Architect
Art Advisor
Art Dealer
Art Educator K-12
Art Historian
Art Therapist
Art Writer
Artist
Conservator
Curator
Exhibition Design
Fashion Designer
Graphic Designer
Interior Designer
Marketing Professional
Medical Illustrator
Museum Educator
Professor
Visual Resources Librarian
In addition to work at art galleries in New York, Washington, Atlanta, Dallas and Venice, among other cities, Art History majors have thrived in careers in finance (Fidelity Investments); fashion design (Kate Spade New York); architectural design (United States Capitol); law (United States Department of Justice); marketing (Campbell's Soup); and dozens of other fields.
---
Ready to take the next step?
Related Programs
Those who are interested in Art History also consider the following programs:
Viewbook
At Wake Forest, we have lots of good stories to share, so we hope you'll get to know us. Browse our Viewbook to learn more.