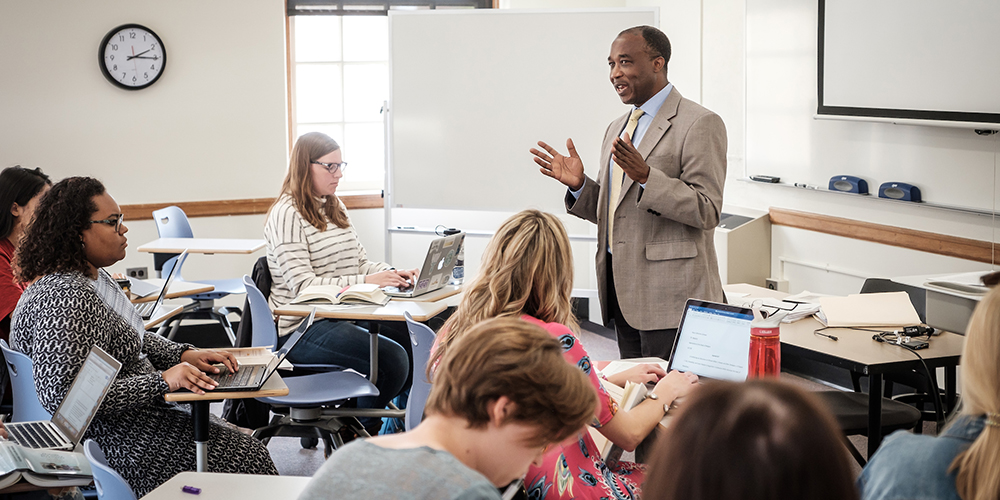 If you want to understand world history, conflict and reconciliation, there may be no better discipline than Religious Studies. While degrees in the major can lead to careers in faith-based positions, their applications are now far and wide. They produce or enhance skills in cross-cultural communication; empathy and tolerance; observation and listening; and general interdisciplinary interest and connection.
---
Did You Know?
Wake Forest's major includes the only program of its kind in the country, a concentration in Religion and Public Engagement. In it, students apply classroom knowledge to public work in research projects, service-learning opportunities and academic-credit-bearing internships. Over its history, the concentration has sent students to places as near as downtown Winston-Salem and as distant as a prison ministry in South Africa.
Courses
Sample courses for students studying Religious Studies include:
Excavating the Sacred
Ritual Studies
Religion and the U.S. Constitution
Religious Sects and Cults
Religion and Pop Culture
View official major requirements »
Practical Experience & Skills
Because religions and the religious deal with questions of meaning and orientation, religious studies provides a place for students to explore in a disciplined fashion the ways in which humans have struggled to make sense of themselves and their world. To study religion is to study responses, both behavioral and intellectual, to some of the great questions of human life, including origins, death, suffering, hope, love and the nature of the self. Religion is not a narrow, isolated segment of individual and social life. Rather, it is a constellation of beliefs, values, practices and behaviors that deeply inform personal and public life. When you study religion, you are not studying just a set of official dogmas or rituals that are isolated from real life. You are studying what motivates and influences most people in our world. As a result, the study of religion requires a variety of disciplinary approaches, bringing together perspectives and approaches from history, sociology, anthropology, philosophy, literature, theology and social theory to gain a more comprehensive understanding of the persons and communities that constitute religious traditions. Thus, the interdisciplinary character of religious studies can provide an unusually integrative matrix for the student's undergraduate experience.
Majors will have enhanced understanding of cultural diversity and the complexity of diverse world views. International and historical perspectives will in turn provide the wider context for students' understanding of their own culture, as well as provide preparation for careers in international relations, development, and commerce. Religion majors do the same things other humanities majors do. Majoring in Religion is not, for most students, a route to a religious career, any more than majoring in English leads to being a novelist, poet, or literary critic. Majors have gone on to pursue careers in a wide variety of fields, including Education, Law, Social Work, Medicine (many medical schools actually prefer that their applicants major in humanistic fields), Business/Finance, Ministry, and Graduate School.
Students in this program will develop the following skills:
Cross cultural communication
Critical empathy and tolerance
Understanding of cultural diversity and the way diverse world views inform human behavior and motivations
Ability to think critically and analytically
Research and organizational skills
Written and oral expression of ideas
Critical appreciation and understanding of the interdependent nature of human activity in fields as diverse as religion, politics, economics, sociology, psychology, and the arts
Reflectivity
Flexibility
Adaptability
Analysis and Synthesis of Ideas
Leadership

Get to know our Personal & Career Development Center
Clubs & Organizations
Religious Studies students participate in the following clubs and organizations:
Athletes in Action
Baptist Student Union
Campus Ministry
Catholic Community
Chabad
Chi Rho
CRU
Episcopal Student Fellowship
Global Food Committee
Hindu Students Association
InterVarsity Christian Fellowship
Lutheran Student Movement
Muslim Students Association
Presbyterian Student Fellowship/UKIRK
The Rosenblatt Family Hillel
Wake Saturdays
Wesley Foundation
Young Life College
Career Outcomes
Careers that often interest Religious Studies majors include:
Non-Profit Work
Community Development
Counseling
Business
Computer Science
International Relations and Development
Law
Medicine and Health Professions
Ministry
Publishing
Social Service
Teaching (high school and higher education)
Graduates in Religious Studies have become teachers; licensed therapists; substance-abuse treatment leaders; financial analysts; and religious leaders, among others.
---
Ready to take the next step?
Related Programs
Those who are interested in Religious Studies also consider the following programs:
Viewbook
At Wake Forest, we have lots of good stories to share, so we hope you'll get to know us. Browse our Viewbook to learn more.