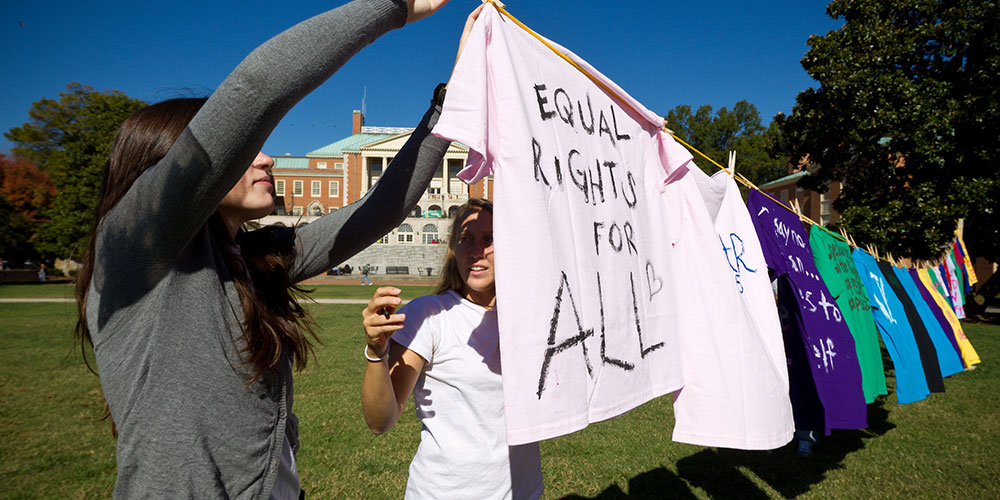 Relatively new but undeniably fearless, Women's, Gender and Sexuality Studies examines political, social and biological issues of femininity and masculinity.
---
Did You Know?
National surveys suggest that graduates in women's studies disciplines are especially likely to possess a sense of empowerment and self-confidence; community-building skills; and comprehension of oppressive discrimination in all its forms.
Courses
Sample courses for students studying Women's, Gender, & Sexuality Studies include:
Feminist Philosophy
Transgender History, Identity and Politics
Gender and the Politics of Health
Gender, Power and Violence
View official major requirements »
Practical Experience & Skills
Women's, Gender, & Sexuality Studies (WGS) students learn theoretical approaches about feminism, masculinity, gender, sex, and sexuality in local, national and global contexts. Through their coursework, WGS students have extensive opportunities to hone their analytical, communication, and research skills.
In addition to curricular pursuits, WGS faculty, staff and students have a rich history of engagement in the intellectual, social, and extracurricular life of the Wake Forest campus and of the broader community. The WGS department offers students internship opportunities, promotes service learning and activism on behalf of women's and gay/lesbian rights, and strives for a non-gender-biased, open-minded society.
Students in this program will develop the following skills:
Writing
Project planning
Interviewing
Gathering and organizing data
Understanding of diversity
Communication
Attention to detail
Ability to summarize information

Get to know our Personal & Career Development Center
Clubs & Organizations
Women's, Gender, & Sexuality Studies students participate in the following clubs and organizations:
Wake Women Lead
Girl Up United Nations Foundation
Women's Center
Domestic Violence Awareness Coalition
Career Outcomes
Careers that often interest Women's, Gender, & Sexuality Studies majors include:
Attorney
Community Center/Nonprofit Manager
Counselor
Diversity Trainer
Editor
Employer Trainer
Human Relations Specialist
Human Rights Advocate
Journalist
Labor Relations Advisor
Lobbyist
Policy Advocate
Professor
Public Health Service Officer
Public Relations Professional
Social Worker
Graduates have gone on to careers in education, the law and other sectors.
---
Ready to take the next step?
Related Programs
Those who are interested in Women's, Gender, & Sexuality Studies also consider the following programs:
Viewbook
At Wake Forest, we have lots of good stories to share, so we hope you'll get to know us. Browse our Viewbook to learn more.