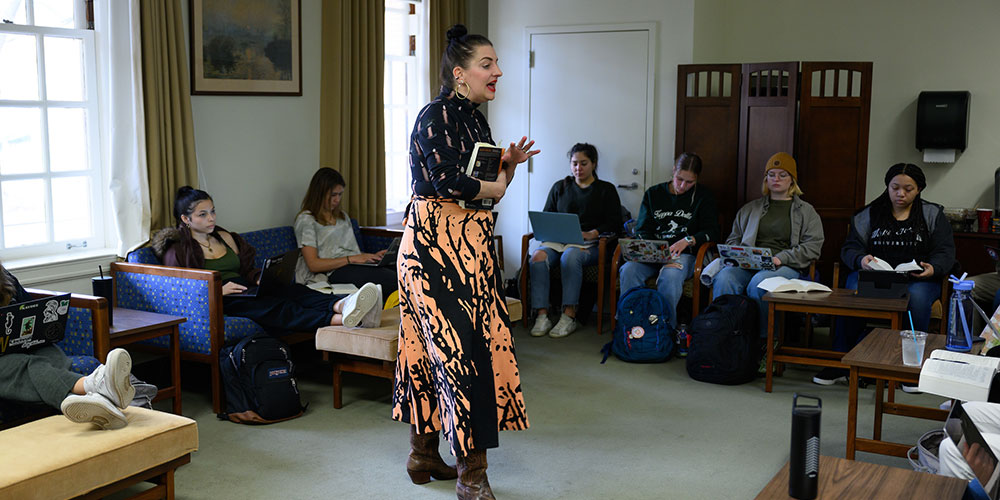 While poring over poems, novels, and plays, English majors develop a critical and aesthetic understanding of English as a language, and of literature as an art form. Students learn a little of nearly everything along the way, and they learn it with the help of faculty who embrace undergraduate research.
---
Did You Know?
In recent years, two-thirds of English department tenured or tenure-track faculty have mentored at least one student-presented project at Undergraduate Research Day, the celebration of collaboration held on Family Weekend each year.
Faculty research and student interaction created Directed Self-Placement, a process by which all first-year students come to understand their level of preparation for college-level writing.
The English department is a major stakeholder in Wake Forest University press, the premier publisher of Irish poetry in North America.
English majors have earned more than two dozen major national and international scholarships, including three Rhodes Scholarships.
Courses
Sample courses for students studying English include:
The Legend of Arthur
The Medieval World
Literature Interprets the World
Playwriting
Roots of Song
Poetry Workshop
View official major requirements »
Practical Experience & Skills
A common misconception about English majors is that after they graduate the only thing they can do with their degree is go to graduate school or teach. With such a firm foundation of writing and communication skills; however, English majors are ready to hit the street and tackle a host of careers—after a few internships, that is. An internship within an intriguing industry will help translate academic skills directly into applicable workplace skills. Internships are great ways to get experience and help you narrow down your endless career possibilities.
Students in this program will develop the following skills:
Aptitude for making critical observations
Proficiency at reading, writing, and speaking
Command of grammar and vocabulary
Capable of reading analytically
Creative thinking
Ability to work toward deadlines
Able to successfully make decisions
Attention to detail

Get to know our Personal & Career Development Center
Clubs & Organizations
English students participate in the following clubs and organizations:
Career Outcomes
Careers that often interest English majors include:
Advertising Copywriter
Attorney
Author
Book Store Manager
Broadcast Journalist
Copy Editor
Court Reporter
Editor
Educator
Entertainment Agent
Human Resources Director
Journalist
Librarian
Media Specialist
Paralegal
Press Representative
Public Relations Director
Publishing Assistant
Technical Writer
The roster of English majors includes at least 50 who own their own businesses; more than 150 executives in other businesses; more than 200 lawyers and judges; and hundreds of other distinguished alumni.
---
Ready to take the next step?
Related Programs
Those who are interested in English also consider the following programs:
Viewbook
At Wake Forest, we have lots of good stories to share, so we hope you'll get to know us. Browse our Viewbook to learn more.