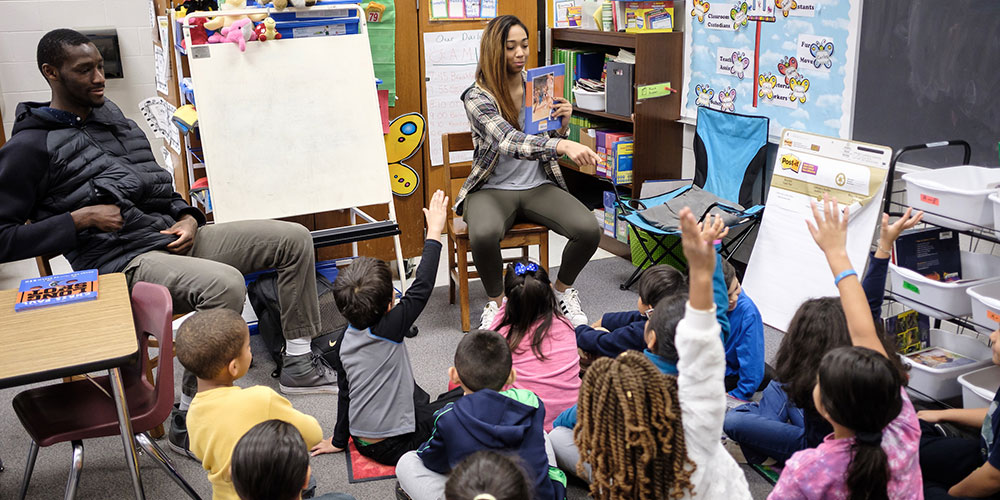 A degree in Elementary Education offers you the chance to mentor children in grades K–6 and help shape the rest of their lives. Its core tenets are subject knowledge; methodology; a belief that diversity—in all its forms—is a strength; leadership development; professional self-reflection; caring; and technological proficiency.
---
Did You Know?
Over the next ten years, more than two million new teachers will be needed to meet rising enrollment demands and to replace retiring teachers.
Courses
Sample courses for students studying Economics include:
Assessment for Positive Student Outcomes
Integrating the Arts and Movement into the Elementary Curriculum
School Leadership
History of Western Education
View official major requirements »
Practical Experience & Skills
The Elementary Education major offers two unique pathways: a professional licensure pathway that includes a full-semester student teaching internship and a non-licensure pathway where students substitute fewer elective courses in lieu of the student teaching internship.
Students in this program will develop the following skills:
Patience
Organizational skills
Ability to think on your feet
Motivational skills
Comfortable in a group setting
Public speaking skills
Supervising and directing
Creativity
Evaluating and interpreting the work of students

Get to know our Personal & Career Development Center
Clubs & Organizations
Elementary Education students participate in the following clubs and organizations:
Best Buddies
Project Launch
STEM Academy
Freedom School
Discovering Education Through Student Knowledge
Center for Learning, Access and Student Success
Career Outcomes
Careers that often interest Elementary Education majors include:
Academic Teacher
Athletic Coach
Child Life Specialist
Educational Materials Coordinator
Executive Trainer
Grant Writer
Principal
Professor
Religious Education Coordinator
School Administrator
School Counselor
School Media Specialist
Recent graduates are teaching in more than 25 states and six foreign countries.
---
Ready to take the next step?
Related Programs
Those who are interested in Elementary Education also consider the following programs:
Viewbook
At Wake Forest, we have lots of good stories to share, so we hope you'll get to know us. Browse our Viewbook to learn more.