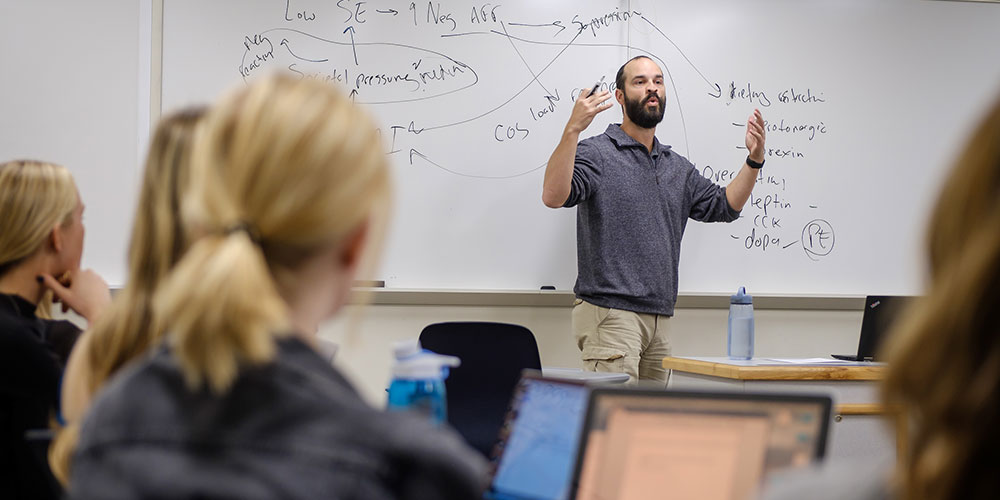 Psychology prepares students for virtually any career that involves human interaction. It examines such topics as the nature of knowledge, justice, right and wrong, good and evil, persons, freedom, determinism, moral responsibility, beauty, art, and the nature and grounds of religious experience and belief.
---
Did You Know?
Psychology faculty work includes acclaimed, ongoing, interdisciplinary studies of character and honesty. The Honesty Project, for example, aims to answer questions surrounding the consequences of dishonesty.
Within recent graduating classes (2019-23), Psychology ranks sixth in popularity among all majors and fourth in Wake Forest College.
A total of 150 graduates ultimately declaring their primary major in Psychology have made at least one presentation of their work over the past 12 celebrations of Undergraduate Research Day (2010-19, 2021-22). That represents the second-highest total of any major.
Courses
Sample courses for students studying Psychology include:
Psychopharmacology
Learning Theory and Research
Parent-Child Relationships
Clinical Neuroscience
Perception
View official major requirements »
Practical Experience & Skills
A major in psychology provides students with a strong foundation of theory and research across various areas of psychology; along with the methodological, laboratory, and statistical skills needed to understand and contribute to psychological research. In addition, directed study and honors program opportunities allow students to work directly with faculty members on research.
Students in this program will develop the following skills:
Able to gather, interpret and explain scientific research
Decision making
Propensity to assist others
Awareness of how people think, solve problems, and process information
Perform statistical analyses
Design and conduct research projects
Write proposals and reports
Understanding of human learning and memory

Get to know our Personal & Career Development Center
Clubs & Organizations
Psychology students participate in the following clubs and organizations:
Psychology Club
Neuroscience Club
Career Outcomes
Careers that often interest Psychology majors include:
Admissions Counselor
Art/Music Therapist
Case Manager
Clinical Assistant
Counselor
Customer Service Manager
Employment Recruiter
Hospice Coordinator
Human Resources Specialist
Media Buyer/Planner
Mental Health Assistant
Occupational Therapy
Peace Corps Volunteer
Physician
Psychologist
Public Relations Specialist
Recreation Specialist
Social Worker
Volunteer Coordinator
Consulting and marketing are among the most common career fields of recent Psychology graduates, but the major sends students into a wide variety of sectors, including law, education and social work.
---
Ready to take the next step?
Related Programs
Those who are interested in Psychology also consider the following programs:
Viewbook
At Wake Forest, we have lots of good stories to share, so we hope you'll get to know us. Browse our Viewbook to learn more.