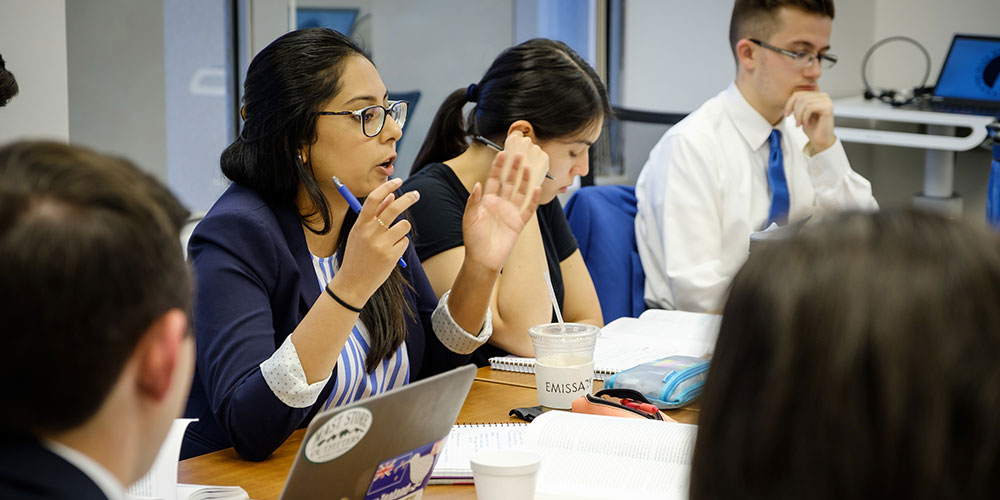 Political science is the study of government, public policies and political behavior. It uses both humanistic perspectives and scientific skills to examine the United States and all countries and regions of the world.
---
Did You Know?
Politics & International Affairs has been the second most popular major in recent years (2019-23) for reasons unrelated to ideology. Consistent with the University's commitment to update curriculum and prepare students for a changing world, the major requires graduates to take a class in statistics. In the Fall of 2021, students in a data-driven politics classes produced papers studying homeownership during COVID and the societal impact of incarceration, among other topics.
Six of the 18 Rhodes Scholars in Wake Forest history have majored in Politics.
Over the past five years, one of every 10 graduates has declared a major (whether primary or secondary) in the discipline.
Courses
Sample courses for students studying Politics & International Affairs include:
Congress and Policymaking
State, Economy and International Competitiveness
Political Theory
Politics of International Development
American Constitutional Law
View official major requirements »
Practical Experience & Skills
As a Politics & International Affairs major, you will hone the writing, communications, analytical and computer skills that are critical to a liberal arts education. The courses offered in the politics & international affairs department will prepare you to think critically and independently, with tolerance for others and concern for current affairs.
Majoring in politics & international affairs can qualify you for many different careers in private for-profit and nonprofit organizations, as well as public sector organizations. Students often pursue careers in business; law; consulting; state, local, and federal government; journalism and communications; international organization; finance; polling and campaign management; community service and non-governmental organizations (NGOs); and pre-college and college teaching.
Political science training also provides valuable preparation for participating in community organizations, electoral politics, movements on behalf of specific policies, and for seeking elective or administrative positions in government. While many of these are voluntary activities, participation in them develops skills and creates opportunities for career success.
Students in this program will develop the following skills:
Skillful at speaking, reading, and writing
Ability to effectively communicate ideas
Able to associate with people with differing beliefs
Skilled at developing personal thoughts/theories
Ability to assess crises and problem solve
Awareness of community needs
Quantitative literacy (ability to calculate, interpret and present statistical data using statistical software programs)
Propensity to be a leader

Get to know our Personal & Career Development Center
Clubs & Organizations
Politics & International Affairs students participate in the following clubs and organizations:
American Constitution Society
College Democrats
College Republicans
Deacs Decide
Federalist Society
Girl Up United Nations Foundation
Global Food Committee
Hydrating Humanitate
International Affairs and Model United Nations Club
International Justice Mission
Pre-Law Council
Social Justice Incubator
Social Justice Theme House
Student Association for the Advancement of Refugees
Student Government
Students Helping Honduras
The Alexander Hamilton Society
Career Outcomes
Careers that often interest Politics & International Affairs majors include:
Account Executive
Attorney
Campaign Coordinator
Chief Financial Officer
CIA /FBI Agent
City/Urban Planner
Commercial Real Estate Agent
Congressional Aide
Conservationist
Consultant
Credit Manager
Debate Coach
Detention Officer
Diplomat
Educator
Financial Advisor
Foreign Service Officer
Human Resources Specialist
Insurance Agent
Judicial Clerk
Labor Relations Specialist
Legal Assistant
Legislative Assistant
Legislative Correspondent
Lobbyist
Marketing Coordinator
Litigation Clerk
Paralegal Investigator
Peace Corp Volunteer
Policy Analyst
Political Analyst
Probation/Parole Officer
Public Relations Specialist
Public Service Worker
Senator
Technical Analyst
Politics majors have become leaders in government, business and philanthropy in a wide variety of sectors. They include a deputy attorney general of California; a deputy director of UNICEF; executives for Delta Airlines; an official at The World Bank; and many others.
---
Ready to take the next step?
Related Programs
Those who are interested in Politics & International Affairs also consider the following programs:
Viewbook
At Wake Forest, we have lots of good stories to share, so we hope you'll get to know us. Browse our Viewbook to learn more.