Main Content
…and the crowd goes wild.
The smallest school in the Atlantic Coast Conference — or any of the NCAA's top five conferences, for that matter — has the biggest heart. And lungs. Across the sporting spectrum, Demon Deacon teams are cheered on by the Screamin' Demons, the largest student organization on campus. In addition to their zeal at football and basketball games, the Demons have helped make Spry Stadium the second-best environment in college soccer according to this NCAA story. 
We also have a trophy case replete with acclaim in both athletic and academic achievement.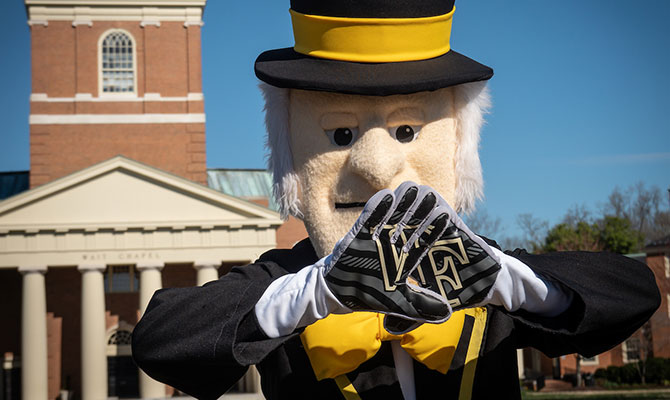 Gramps Has Game
The Demon Deacon took his time. In 1923, an Old Gold and Black column referred to the Wake Forest College football team as deacons who played like demons, but the nickname didn't assume human form for another two decades. In the 1940s, students in costume gave life to the concept, and the Demon Deacon has been entertaining fans ever since.
Something for Everyone
Intramural sports leagues crown champions in 16 sports every year, and the diversity of opportunity explains why the vast majority of Wake Foresters participate in at least one intramural sports activity at some point as undergraduates. Swing away.
Get the Gear
If you can't find something in the Deacon Shop that strikes your fancy today, come back tomorrow. New gear frequently arrives. If you still can't find it, ask your dog. (Pets rock the Old Gold and Black, too.) While not a spiritual shrine, the Deacon Shop is a sort of shrine to spirit. Feel free to let your flag fly.