Main Content
It's not about you.
It's about us, and the greater meaning of what it means to be human. Our motto, Pro Humanitate (For Humanity), is a calling to use our knowledge, talents and compassion to better the lives of others. It can mean donating time and resources to our communities or simply a lifelong commitment to pursuing our best self. No matter your personal interpretation, it's an opportunity to leave the world better than we found it.
Wake 'N Shake
In nine years, this 12-hour dance marathon has generated more than $1.7 million for the Brian Piccolo Cancer Research Fund. The 2018 event set a record by raising $376,730.
Wake Alternative Break
In the past five years (2014-18), more than 400 students and staff have trekked 459,774 miles (from Earth to the moon and most of the way back for a single traveler) to 15 locations for 20 projects over their spring break. Collectively, they have volunteered more than 7,000 hours of community service to various causes.
MLK Day of Service
During the MLK day of service, 40 Wake Forest Students host approximately 150 children from the Winston-Salem community for a morning of education and reading.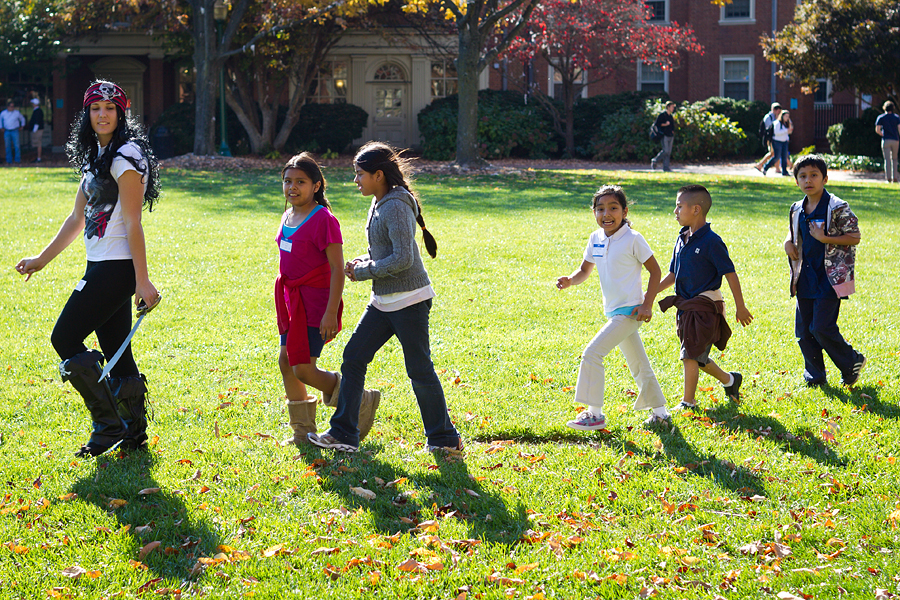 Project Pumpkin
This annual service event brings more than 1,100 children from local agencies, schools and nonprofit organizations to campus for entertainment, education and games within a safe environment.
Wake Saturdays
Every Saturday, Wake Forest students serve sandwiches to the homeless community in downtown Winston-Salem
Campus Kitchen
Approximately 900 meals per month are provided to Winston-Salem residents through the efforts of the University's Campus Kitchen program, a nationwide service founded at Wake Forest that safely repurposes food originally prepared for — but never served to — students in various campus facilities.