Main Content
We believe in the buddy system.
No one does this alone, and your advisor is here to help keep busy and exciting from becoming overwhelming. Each undergraduate student has an academic advisor who assists with course selection and registration each semester. First-year students are assigned a lower division academic adviser for two years. The academic adviser and an upperclass student (student adviser) meet with students individually and in small groups and suggest and approve course selections until students declare a major at the end of the second year. At that time a new adviser is assigned.
The culture of assisted learning is alive and well. In 2016-17, for example, 62 percent of first-year students used the services of the Writing Center at ZSR Library, in which trained peer tutors advise their fellow Wake Foresters on how to improve their writing.
Visit the advising site for current students to learn more about the advising process.
"Your advisor will challenge you to explore new ideas, ask you questions about your long term personal and academic development, and set high standards for your personal interactions with all faculty and staff members. " Christy M. Buchanan, Senior Associate Dean for Academic Advising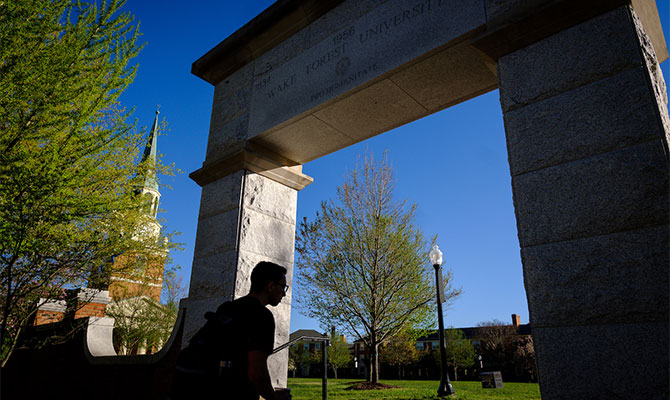 Quick Facts
Because you have things to do.

Teacher-Scholar Ideal
At Wake Forest, every faculty member is dedicated to excellence in both teaching and research. Professors, not graduate assistants, are the primary instructors, so students have access to top-flight scholars from their first day on campus.